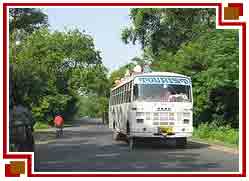 Capital of the erstwhile Gond rulers during the 12th century, Jabalpur is one of the largest cities in Madhya Pradesh. Sited on the northern banks of the Narmada River, the place is located in a rocky basin and is shaded by jagged hillocks. It dons itself in many ancient fortresses and museums that enliven its rich historical mosaic. The place is also an important stopover for exploring some of the most distinguished wildlife sanctuaries of the state. To get information on reaching/ traveling to Jabalpur in Madhya Pradesh, peruse this topic.
By Air
The nearest airport is the Jabalpur airport, also called 'Dumna', situated at a distance of 20 km from the main city centre. It connects Jabalpur to almost all the important cities in India. Some of the key airlines that operate their services from the Jabalpur airport are Kingfisher Airlines, Indian Airlines and Air Deccan.
By Rail
Jabalpur is one of the major railway junctions of the Central railways and falls on the Howrah- Mumbai main line. The line links the city to other places in India. There are direct trains from Indore, to Satna, Bhopal, Varanasi, Mumbai, Howrah, Delhi, Secunderabad, Patna, Chennai, Cochin, et al.
By Road
A couple of National Highways pass through Jabalpur. Various buses shuttle from Jabalpur to neighboring places like Nagpur, Jaipur, Gwalior, Indore, Satna, Bhopal etc. The main bus station of the place is located to the west of the Napier town. You can easily get buses as well as taxis from here.