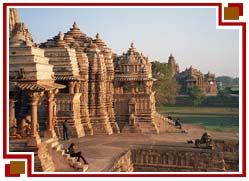 Located in the heart of India, Madhya Pradesh is out-an-out a paradise for travelers. With its exemplary temples, exquisite mosques, proud fortresses and rich wildlife, it weaves a magical mesh for everyone who sojourns to its lap. While in Madhya Pradesh, you never know when you will come across an exciting tourist attraction. In fact, the whole state is impregnated with heritage monuments and architectural relics and transports you to a different world altogether. It is a land where you stumble on ashen monuments, lofty forts, verdant forests, rolling glades, revered shrines and mysterious caverns, all at the same place.
The fabricated architectural marvels of Madhya Pradesh not only complement its natural landscape, but also unfurl the historical significance of the state. These monuments are legacies of various dynasties that ruled Madhya Pradesh and hence associate their existence to many stories and legends of the past. With such narrative wealth, they entice tourists from across the globe. This article will take you to an exciting tour across Madhya Pradesh and help you dig out information on these various tourist attractions generally incorporated in the sightseeing tours of the state.
Caves
Amongst the most prominent tourist attractions in Madhya Pradesh are the many ancient caves of the state. Each of the caves in the state makes a mark with its unique appeal. Bhimbetka Caves, located 46 km from the city of Bhopal, are the most famous and even find enlistment as a UNESCO World Heritage Site.
Religious Places
Madhya Pradesh is a melting pot that embraces people professing different religions. Thus, the state is home to many important worship places in India. The religious places strewn across the state are popular for their mystical overtones as well as for their architectural magnificence.
Monuments
Madhya Pradesh boasts of a rich historical past and associates its name with many ruling dynasties of India. Thus, the state exhibits a landscape bequeathed with various trademark preferences of these rulers. It also claims distinction for snuggling three prominent World Heritage Sites.
Forts
The rich cultural and historical saga of Madhya Pradesh unravels in the form of its staggering forts. In fact, many forts tassel the terrain of the state and are like revelations for whoever beholds their beauty and probes their history. Frozen in time, these ancient forts are exquisite specimens of the past
Wildlife
The state of Madhya Pradesh is nothing but a treasure for all those who love to experience jungle thrills and adventurous lookouts. The national parks and sanctuaries of the state teem with some of the most interesting wildlife species found in India.