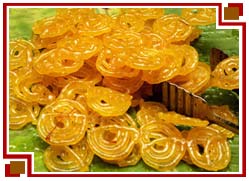 Madhya Pradesh dishes out some of the most delectable platters in India. The state domiciles people from all corners of the country. Thus, recipes of various states influence its salver. Madhya Pradesh has skillfully amalgamated the recipes of the various erstwhile states and given them its own distinctive flavor. As far as daily meals are concerned, wheat, jowar and maize are the core grains and are mostly included in every meal. The meals also incorporate protein rich lentils, especially Arhar Dal. An important traditional food of Madhya Pradesh is 'bafla' (wheat cakes), dipped in ghee and eaten with strong peppery lentil broth.
The recipes of the state are a heady combo of both sweet and salty flavors. People have a strong penchant for sweets and desserts, which reflects in their food habits. Popular sweet delicacies are Jalebi, Kusli and Cashew Burfi. As cities like Gwalior and Indore abounds in milk and dairy products, dairy-based platters are more common in these regions. However, desserts and traditional mithais are common in every household. During summers, sweet flavors follow each meal. Juicy mangoes, watermelons, custard apples, bananas, papayas and guavas are preferred after heavy meals.
Food habits in Madhya Pradesh vary from region to region. Wheat and meat dominate the northern and western regions, while the people of wetter south and east prefer rice and fish. In certain regions of Madhya Pradesh, people consume rice and fish in a daily manner. Bhopal is famous for its rich variety of meat and fish dishes. Piquant delicacies like rogan josh, korma, keema, biryani pilaf and kababs (shami and seekh) are very popular. Among drinks and beverages, lassi (buttermilk), sugarcane juice, sulfi (liquor distilled from the flowers of mahua tree) and date palm toddy are very famous.
Apart from the huge range of culinary delights, even the hospitability and generosity of the people of Madhya Pradesh is legendary and forms an important part of their food culture. They equate guests with God and are avid followers of the adage 'Atithi Devo Bhava' (Guest is akin to God). Invitations for lunch and dinner are not uncommon. Especially in the villages of the state, the hospitality and warmth can be quite overpowering. Tables are laden with an array of dishes and people serve with a fervent pleasure. Moreover, generous second helpings are always welcome and considered as gestures of compliments to the host.