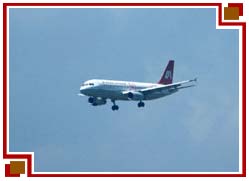 Considered as the geographic heart of India, for its strategic positioning in the Indian map, Madhya Pradesh is recognized as one of the most advanced states of the country. It stands bordered by the neighboring states of Gujarat, Uttar Pradesh, Chhattisgarh, Maharashtra and Rajasthan. Today, the place is home to numerous industries and premier educational institutions that emphasize its contemporary strides. The heritage monuments and generous landscape add to its prominence and explicate the reason for the bustling tourist activities that the state witnesses round the year.
Being a major vacationing destination of India, Madhya Pradesh is endowed with excellent communication facilities by different modes of transport. The state has extensive airways, roadways and railways that augment traveling to the place by any means of conveyance. Thus, tourists can easily reach the place by air, rail and road routes. If you want to know about how to reach Madhya Pradesh with ease, just go through this article. For your convenience, we have provided a comprehensive account of various available ways of getting to the state here. Peruse the topic and plan a trip.
By Air
The five key air terminals in Madhya Pradesh that facilitate air networking are located in Bhopal, Gwalior, Indore, Jabalpur and Khajuraho. All the important public and private domestic airlines operate regular flights from these airports to the major air destinations in India. The 'Raja Bhoj International Airport' in Bhopal has international airlines that fly to Dubai, Singapore, Sharjah and Bangkok. Moreover; Silk Air, Air Arabia, Indian Airlines and Air India Express are international airlines that fly from the 'Devi Ahilyabai Holkar Airport' in Indore.
By Rail
The major railway junctions of Madhya Pradesh are Bhopal, Bilaspur, Bina, Gwalior, Indore, Itarsi, Jabalpur, Katni, Ratlam, Ujjain and Khandwa. Bhopal Railway Station is the key railhead of the state and is served by many important trains that link it to the rest of the county. It is a major stopover for trains like Rajdhani Express, Shatabdi Express, Punjab Mail, Bangalore Karnataka Express etc. Bhopal is one of the two major Delhi-Mumbai railway lines and is in fact the main railway junction of the West Central Railways.
By Road
Extensive network of National Highways and State Highways interlink in Madhya Pradesh and helps visitors in reaching the place by roads. These well-maintained highways easily connect Madhya Pradesh to the adjoining areas within and outside the state. If we consider the capital city of Bhopal as the center, then places like Gwalior (422 km), Indore (187 km), Sanchi (45 km), Agra (541 km), Jaipur (572 km), Khajuraho (387 km), Mandu (290 km) and Nagpur (345 km) can be easily accessed by road.