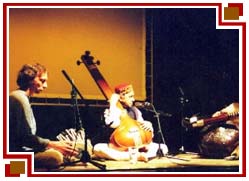 Hindustani Classical Music is known for its poignant ragas and mellifluous notes and showcases its musical splendor in the form of Tansen Music Festival, held in Gwalior every year. Gwalior, acclaimed as the oldest Gharana in Hindustani music, has managed to retain its musical spirit and tradition. It is in fact one of the leading arbiters of Indian classical music. Since music still enjoys a place of prominence amongst the people of Gwalior, the festivals forms a hallmark of its culture.
The fact reiterates itself when one witnesses the Tansen Music Festival, organized every year in the month of November/ December at Behat. The opulent celebration that this festival calls for makes it one of the leading cultural festivals of Madhya Pradesh. Gwalior earns the repute of being the birthplace of many famous music maestros and geniuses, Tansen being one. Acclaimed as 'Father of Hindustani Music', especially Drupad style, Tansen was amongst one of the nine jewels of Akbar's court.
To pay tribute to the living memories of this legendary singer, this national level music festival is organized every year. Infact, now it forms a part of the cultural tradition of Gwalior. During the festival, the city resonates with a musical spirit and draws music connoisseurs from far and wide. The venue of this musical extravaganza is aptly sited near the burial site of Tansen, situated at the Behat region of Madhya Pradesh.
This memorial, built in Mughal architectural style, creates the perfect ambience for the five nights of mesmerizing performances that follow. Renowned classical singers from across the country pay homage to Tansen, through various soul-stirring ragas. Some of the finest talents of the country regale the spectators with overwhelming vocal and instrumental performances. In short, Tansen Music Festival is a musical congregation that highlights the inimitable contribution of Tansen to the enriching charm of Hindustani music.