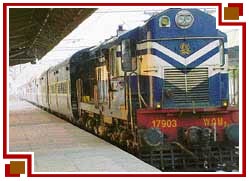 Located on the right bank of the Shipra River, Ujjain is a venerated pilgrimage centre of Hindus in India. From times immemorial, various legends have been associated with the place. The place was believed to be known as 'Avantika', and was renamed as 'Ujjainyini' (one who conquers with pride) by Lord Shiva, after he vanquished the demon king of Tripuri. It was later abridged to 'Ujjain'. This article explicates the various feasible options available for traveling to Ujjain. Read on and know how to reach the place.
By Air
Ujjain doesn't have an airport of its own. The nearest airport is the 'Devi Ahilyabai Holkar Airport', located in Indore, situated 55 km away. Major airlines like Air Deccan, Jet Airways, Air Sahara, Go Air, Alliance Air, SpiceJet, Kingfisher Airlines and Indian Airlines connect Indore to places like Delhi, Mumbai, Pune, Jaipur, Hyderabad, Chennai, Bangalore, Bhopal, Ahmedabad, Goa, Nagpur, Ranchi, Raipur, Patna, Vizag and Kolkata.
By Rail
Ujjain Junction Railway Station is a major railhead on the Western Railway network and connects the place to different parts of the country. It lies on the Bhopal-Nagada rail route. Some of the important Express trains that halt in this station are Narmada Express, Malwa Express, Indore-Pune Express, Sabarmati Express and the Avantika Express. Two other stations are Vikram Nagar and Chintaman (meter gauge) that facilitate railway travel to the place.
By Road
Major roadways like Agra Road, Dewas Road, Indore Road, Maksi Road and Badnagar Road link Ujjain to other places of India. The two bus stations of the place are the Dewas Gate and NanaKheda. A large number of private buses ply from these bus stations to Delhi (774 km), Bombay (655 km), Ahmedabad (402 km), Bhopal (183 km), Gwalior (451 km), Indore (53 km), Khajuraho (570 km) and Mandu (158 km). Regular bus services are available for reaching here, from places like Indore, Bhopal, Ratlam, Gwalior, Mandu, Dhar, Kota, etc.