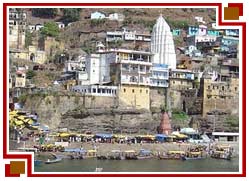 Mandavgarh or Mandu, as it is commonly known, is a hilltop perched amidst the rugged plateau of the Vindhya mountain ranges, in Madhya Pradesh. This enticing place transports one to a historical past that still rings with the tales of immortal love and romance between Baz Bahadur and Rani Roopmati. An erstwhile Mughal monsoon retreat, the beauty of Mandu is radiated from every alcove of the town. For tourists visiting the place, the town can be a good base to explore the beauty of nearby attractions as well. There are a number of tourist places near Mandu, which make up the city's excursions.
Bagh Caves
Bagh Caves of Madhya Pradesh are counted amongst the finest specimens of Buddhist art and architecture in India. Located 50 km west of Mandu, this cluster of five caves falls on the road between Indore and Vadodara.
Omakreshwar
The holy island of Omkareshwar is placed en-route Indore from Mandu. The island is shaped like the sacred Hindu symbol 'OM' and witnesses the conjoining of the Kaveri and the Narmada rivers. Many religiously inclined tourists meet at the confluence of these rivers and offer their obeisance to the Divinity. The island is also well-known for the Omkareshwar temple which enshrines one of the twelve 'jyotirlingas' in India. The lingam is not ritually invested with any 'mantra shakti', but is believed to be 'swayambhu' (derive currents of power from within itself). Apart from the religious connotation, the temple is also a visual enchantment, with its stylized facades and finely detailed friezes.
Maheshwar
The temple town of Maheshwar lies on the northern bank of the Narmada River and is hemmed with numerous shrines, a historical fort and many riverfront ghats. There are several temples dedicated to the different names and avatars of 'Lord Shiva' that are sites of awe and reverence amongst the religious tourists. While in Maheshwar, you can also visit the famous royal throne (Rajgadi) of Rajmata Ahilya Bai Holkar, ruler of Indore. Maheshwar Fort and Sahastradhara are also popular tourist attractions of the place, where one can gallivant in the lap of nature amidst the serenity of these places. On a trip to Maheshwar, don't forget to pick a few hand-woven Maheshwari sarees (in cotton and silk) that are recognized for their distinctiveness and simplicity.