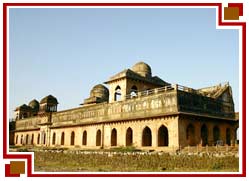 Perched in the rugged terrains of the Vindhyas, Mandu is a fort hilltop located in Madhya Pradesh. Its enchanting landscape, embedded with architectural gems, is cuddled by mountains at a height of 2000 ft. The place still echoes with the elegance and beauty of the regal era and abounds in historical monuments that have gracefully aged with time. These architectural relics scattered throughout the beautifully rutted backcloth of the mountains form its major tourist attractions. Based on their location, these edifices are segregated into three distinct groups. Explore the numerous places in Mandu that interest tourists.
Royal Enclave Group
Jahaz Mahal (Ship Palace)
This ship-like structure was the brainchild of Sultan Ghiyas-ud-din Khilji. The palace served as his harem and was home to 15,000 maidens. Two lakes bound the palace on the eastern and western sides and underpin the illusion of a ship.
Taveli Mahal
Located on the south of Jahaz Mahal, this ancient monument was used as a guardhouse and a stable during the Mughal regime. It now acts as a gallery of Archaeological Survey of India and houses various archaeological findings.
Hindola Mahal (Swing Palace)
It is located near the Jahaz Mahal and is a large hall that is supported by sloping buttresses. It served as a pleasure palace of the Mughals, who organized their evening parties here during the monsoon season.
Champa Baoli
An elaborately constructed step-well, the place was so named as its waters were believed to smell like the 'Champa' flower. A summer retreat of the emperor,; it houses cool wells, underground rooms (Taikhanas) & subterranean bathrooms.
Village Group
Jami Masjid
This huge edifice, built in 1454, was one of the finest achievements of the Ghauri dynasty. Faced with red sandstone, the monument dominates the village of Mandu and is structured on the 'Omayyed Mosque' in Damascus, Syria.
Tomb of Hoshang Shah
It lies on the south-west of the Jami Masjid and is believed to be the oldest marble building of India. Sheathed completely in white marble, its design and workmanship greatly influenced Shah Jahan, who sent his architects to study it before building the Taj Mahal.
Ashrafi Mahal
It was built by Mahmud Shah Khilji. Originally constructed as a Muslim religious school (Madrasa), the place was later extended to become his own mausoleum. The building collapsed due to faulty architecture and now stands amidst ruins.
Jain Temple
It is a modern temple complex that enshrines images of various Jain 'Tirthankars'. All the temples are richly festooned with marble, silver and golden statues of the Jain saints. The place also houses a Jain museum inside it.
Rewa Kund Group
Baz Bahadur's Palace
Located near Rewa Kund, this place was erected in 1509 by Baz Bahadur, the last king of Malwa. It exhibits a skillful blend of Mughal and Rajasthani architectural style, with high terraces, ornate halls and spacious patios.
Rupmati's Pavilion
This fort was originally built as an army observation post and offers some enchanting views of the Narmada gurgling through the Nimar plains below. With its striking pavilions, the fort was used as a summer retreat by the queen.
Other Attractions
There are also some other forts and monuments in Mandu, which are not categorized into any groups, but deserve special mention. Nilkanth temple, located at the very edge of a steep gorge, is a renowned Shiva shrine. Nilkanth Mahal, constructed by the Mughal Governor, Shah Badgah Khan for Emperor Akbar's Hindu wife, is also a notable architectural specimen of Mandu. Hathi Mahal, Darya Khan's Tomb, Dai ka Mahal, Dai ki Chhotti Behan Ka Mahal, Malik Mughit's Mosque and Jali Mahal are some other fascinating monuments that still reverberate with the glorious past of Mandu.