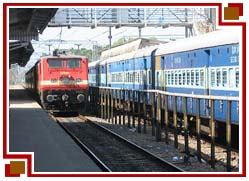 A historic city of India, Gwalior is located in the central state of Madhya Pradesh, 321 km from Delhi. It was home to the 'Scindias' prior to India's Independence. A miscellany of antique remnants, from the period of the Guptas, Huns, Pratiharas, Tomaras, Pathans, Mughals, Marathas and the British, still hem the place and captivate tourists from different corners of the country. Its favorable position in the Indian map, with close proximity to other places of interest like Khajuraho, Agra and Jaipur, shores up its tourism. Read on to know how to reach Gwalior.
By Air
Gwalior airport is located 8 km from the main city center. Flights of Indian Airlines (to Delhi, Khajuraho, Bhopal), Air Deccan (to Delhi, Agra, Indore), Alliance Air (to Jabalpur, Indore, Agra), Jet Airways (to Indore, Mumbai), and Air Sahara (to Mumbai, Jaipur, Agra, Varanasi) connect the place to almost all the key Indian cities.
By Rail
Train is one of the most convenient options for traveling to Gwalior. The railway station is located within the city and falls on the main Delhi- Mumbai and Delhi- Chennai rail link. Some of the major trains that pass through the station are Shatabdi Express, Chhattisgarh Express, Hirakund Express, Kerala Express, Punjab Mail, Chambal Express, Goa Express and the Grand Trunk Express.
By Road
Gwalior is connected by a good system of road, linking it to all the adjoining cities in Madhya Pradesh and the other nearby states. It is well-connected to places like Agra (118km), Jaipur (350km), Delhi (321km), Bhopal (423km), Chanderi (239km), Indore (486km), Jhansi (101km), Khajuraho (275km), Ujjain (455km) and Shivpuri (114km) by road. You will easily get buses as well as taxis for reaching the city.