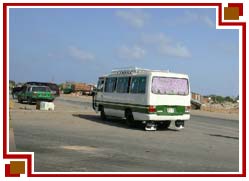 Pachmarhi boasts of being the only hill resort in the entire state of Madhya Pradesh. This ethereal place drifts atop the plateaus of the Satpura ranges, at a height of 3,500 ft. Encompassed by thickets of sal and bamboo trees, the place borrows its name from a group of five caves, which, according to legends, were abodes of the five Pandava brothers during their exile. This saucer-shaped paradise, with its many pellucid ponds, summons swarms of tourists to regale in its lap. Go through this article and learn the convenient ways of reaching the place.
By Air
Bhopal airport, located at a distance of 195 km from Pachmarhi, is the nearest airport to the hill resort. Flights of major airlines like Air Deccan (to Delhi, Jabalpur), Alliance Air (to Mumbai, Indore, Delhi, Gwalior), Sahara Airlines (to Delhi, Guwahati, Goa, Indore, Lucknow) and Jet Airways (to Delhi, Mumbai, Indore) link Bhopal to other places in India. However, only Air India operates international flights to Dubai and Sharjah from this airport. Visitors traveling by air can disembark at the Bhopal airport and hire a bus/ taxi to reach Pachmarhi.
By Rail
The nearest and most convenient railhead is Pipariya, located 47 km from Pachmarhi. Positioned on the Allahabad - Satna- Jabalpur- Itarsi -Bhusawal line, it lies on the Mumbai-Howrah mainline, via Allahabad. Major trains that halt at this junction include Vindhyachal Express, Mahanagari Express, Sanghamitra Express, Saket Express, Pawan Express, Revanchal Express, Amarkantak Express and Tapti Ganga Express. Tourists traveling to Pachmarhi by rail need to dismount at the Pipariya station and proceed to the hill station in a bus or taxi.
By Road
Even though a hill resort, Pachmarhi has excellent road links that connect it to important locations nearby. Daily bus services connect Pachmarhi to places like Bhopal, Hashangabad, Nagpur, Pipariya and Chhindwara. Taxis are also available at Pipariya, from where a highway leads to Pachmarhi. It is about two hours drive from Pipariya to Pachmarhi. One can also avail MPTDC buses, cars and private jeeps to reach the place.