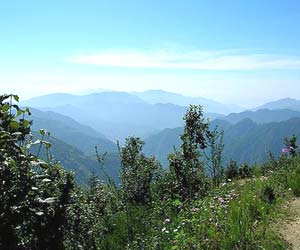 Kanatal is one of the most beautiful hamlets in Uttarakhand. A quaint little town, it is located on the Mussoorie-Chamba road, in the district of Tehri Garhwal. Perched at an altitude of about 8,500 feet, Kanatal offers a magnificent vision of the snow-capped mountain ranges and verdant green forests. It is merely 40 km from Mussoorie and 300 km from Delhi. The town has one big advantage over the other more well-known and popular hill towns in North India i.e. it is away from over gathering, ultra-urbanization, contamination and commercialization.
Kanatal offers a mystic and peaceful experience to the tourists, in the lap of the untouched, unscathed environment. It is the perfect destination for those people who love to have a word with untouched, untamed and unspoilt nature. With pleasing weather throughout the year, Kanatal offer a welcoming interlude from the scorching heat, humidity and dust-filled environment of polluted cities and towns in the plains. It has a pleasing range of 10-25 degrees Celsius temperature in summer and is chilly in winters.
The high point of the weather at Kanatal comes between December to February, when more than 50 inches of powdery snow flooring its grounds, creating an amazing scenario and transforming the entire area into a stunningly beautiful white wonderland. Other than the beautiful scenic vista it offers, its strategic location, on the Chamba-Mussoorie highway, also develops its prospects of becoming a major tourist spot in Uttarakhand, in the near future.
How to Reach Kanatal
Kanatal is a hill station situated at the Chamba- Mussoorie road and is perched at a breath-taking altitude of 8500 feet. It is a magically calm place located far away from the hustle- bustle of cities, in the serene natural environs of Uttarakhand. Kanatal is located at a distance of 35 km from Mussorie and is at an hours drive from the popular hill resort.
Things to Do in Kanatal
A strikingly beautiful hamlet in the located in the midst of the serene and tranquil hills of Uttarakhand, Kanatal offers calm and peaceful respite from the maddening high decibel sounds of city life. A sojourn in this scenic hill station in the vicinity of Himalayas is the ideal vacation one can ask for.
Kanatal Weather
Kanatal is a small hamlet located in the Tehri Garhwal district of Uttaranchal. It is situated at a distance of 300 kms from Delhi and is one of the most favored tourist spots in Uttarakhand. It is not over-crowded or highly urbanized like the most frequented hill stations of the state.