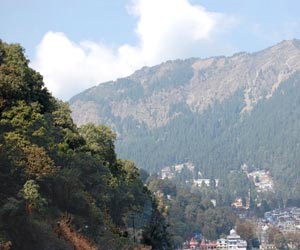 Ramgarh is a small hill station located in the Nainital district of Uttarakhand. It is sited at an altitude of 1,789 meters, around the Himalayan foothills. This beautiful hill station is located at such a strategic point that it provides an unobstructed view of the beautiful snow-covered ranges of the great Himalayas. Ramgarh is meant for those who enjoy a rendezvous with nature and love being amidst beautiful, yet serene surroundings.
Ramgarh abounds in apple, apricot, plum and peach orchards, because of which it is known as the 'Fruit Bowl of Kumaon'. The serenity and placidity of these orchards have the ability to refresh a person's senses, revitalize his soul and satisfy his gastronomic desires. Ramgarh is also known for its tourist resorts and cottages. It would also be interesting to know that the hill resort once served as a British Army cantonment.
When in Rangarh, one shouldn't miss the picturesque view of sunsets and sunrise from here. Other places worth visiting in the hill resort include the ashrams of Rabrindranath Tagore and Narain Swami and a library dedicated to the famous writer Mahadevi Varma. The place has 24-hour transport connectivity to others parts of Uttarakhand and amazingly, most of the famous tourist spots of Uttarakhand, including Nainital, Bhimtal and Mukteshwar temple, are within a range of 25 km from Ramgarh.
How to Reach Ramgarh
Ramgarh is located in the Nainital district of Uttarakhand. The place was once the cantonment of the English army. Today, Ramgarh serves as an idyllic recreation zone, ushering tourist an ideal opportunity to relax, rejuvenate and unwind.
Ramgarh Tourist Attractions
Ramgarh is one of the beautiful destinations one can head to during a trip to the picturesque location of Uttarakhand. The place provides tourist just the right opportunity to have a rendezvous with nature. The beautiful and serene surrounding of the place makes it one of the hotspots in the Nainital district.
Things to Do in Ramgarh
If you thought that Ramgarh is only about glorious mountain ranges, steep slopes, beautiful orchards and picturesque scenery, its time for some revelation!! Apart from all the things mentioned above, Ramgarh is also an ideal destination for adventure freaks and nature enthusiasts.
Ramgarh Weather
Perched on an altitude of 1789 mts, in the Nainital district of Uttarakhand, Ramgarh is a beautiful hill station, extending as an idyllic retreat zone for all kinds of tourists. Strategically located, the place gives an unobstructed view of the beautiful snow-covered mountains.