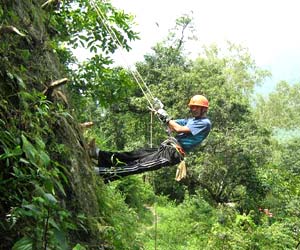 If you thought that Ramgarh is only about glorious mountain ranges, steep slopes, beautiful orchards and picturesque scenery, its time for some revelation!! Apart from all the things mentioned above, Ramgarh is also an ideal destination for adventure freaks and nature enthusiasts. This small hill station provides a number of fun activities that you can indulge in, which is absolutely impossible to experience in the big cities. Right from goiung for picnic to satisfying your need for adventure with rock climbing and camping, the options provided are endless. In the following lines, we have provided detailed information about the things to do and see in Ramgarh, Uttarakhand.
Fun Activities to Do in Ramgarh
Fishing
In case you are fond of fishing, then all you need to do is just pack your bags and head to Ramgarh. Do not forget to carry your rod and a frying pan. For fish lovers there are plenty of masheers in the Kalirao and Kosi rivers. .However, make sure you get the permit from the Forest Department Office to play safe.
Rock Climbing & Rapelling
If you love challenges, then Ramgarh would be nothing less than a paradise for you. Enveloped by rocky terrains and mountains on all sides, the place gives you a perfect opportunity to explore your love for adventure. You can either inform the hotel wherein you are staying or arrange the adventure from a local tour agent. So, if you are all set to face the rocky terrain, Ramgarh would be the destination.
Nature Walks
Hill station and nature walk go hand in hand. Away from the pollution and restless life in cities, Ramgarh gives you ample of time to rejoice the beauty of nature and replenish your mind, heart and soul. The beautiful orchards of apples, apricots, plums and peaches are sure to refresh and revitalize your soul, apart from satisfying your gastronomic desires.
Camping
Camping outside is one of the most loved activities travelers indulge in when in Ramgarh. It is a complete contrast to what urbanites experience in their sedentary city life. There is nothing like sleeping right in the lap of nature and enjoying the rustic beauty and exquisiteness of the place. Amidst the luxurious greeneries, spectacular sunrise and blissful moonlights on the banks of River Kosi, Ramgarh would surely be a perfect location for family camping. However, stating prior information to the hotelier would be beneficial.
Picnics
Picnics are the best way to reunite with family and friends and have an enjoyable time. And if the picnic is in the lap of nature, it becomes all the more a pleasurable experience to dwell in. in Ramgarh, there are umpteen options for you to indulge in picnics. The Khairna Bridge is one of the topmost places wherein you can have a wonderful time ahead.