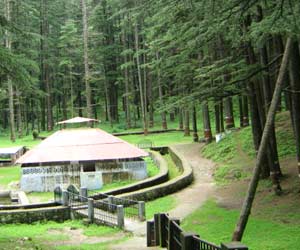 Lansdowne was founded in 1887 by Lord Lansdowne. Lansdowne was originally one of the most favorite hill stations of the British. Surrounded by thick forests of oak and blue pine, Lansdowne is a charming hill destination devoid of the usual hustle bustle other hill stations.
Lansdowne was developed by the British as the recruits training centre for Garhwal Rifles of British Indian Army. Today, Lansdowne is home to the command office of the famous Garhwal Rifles regiment of the Indian Army.
It is interesting to note that originally this picturesque hill destination was known as Kaludanda, Kalun meaning Black and Danda meaning hill in local language. It was only after the British found out this charming hill destination and decided to develop it, that Kaludanda was named Lansdowne (named after the then Viceroy of India, Lord Lansdowne).
The best way to explore the pristine surrounds of Lansdowne is by going for nature treks. There are a number of trails through the woods that one can take. Camping and river crossing are very popular tourist activities besides hiking expeditions, for which Lansdowne proves to be more than a comfortable base camp.
Tarkeshwar Mahadev
The famous temple of Lord Shiva – Tarkeshwar Mahadev – is located at an altitude of 1800 meters above the sea level and is about 36 km from Lansdowne. The temple which is surrounded by thick forests of deodar and pine is an ideal place for those who seek beauty in nature. A special worship is held here during the festival of Shivratri which is attended by huge number of devotees. Comfortable accommodation in dharamshala is also provided by the temple committee.
How To Reach Lansdowne
Situated in Pauri Garhwal district of Uttarakhand Lansdowne extends tourists a haven for natural beauty and richness. The hill station is about 81 kms from Pauri and offers tourists the ideal combination of unexplored beauty and absolute tranquility.
Lansdowne Tourist Attractions
Perched at a high altitude, Lansdowne is one of the best places to spend a serene and calm vacation in Uttarakhand. The calm environ of the place, coupled with a blissful ambience would surely prove to be a respite for people, boggled down with the chaotic life of big cities.
Things to Do in Lansdowne
Lansdowne is a perfect place to have a soulful vacation, away from the chaos and clatter of city life. Perched atop at an altitude of 5597ft, the unexplored charm of the place would surely leave you captivated. Add to this, the panoramic view, the salubrious climate and the refreshing beauty of nature.
Lansdowne Weather
Idyllically situated in the hill state of Uttarakhand, Lansdowne is a perfect place for experiencing an enthralling stay in the lap of nature. The best feature of this place is that though being hill station; it is much unlike the hustle bustle prevalent. In addition to this, the largely unexplored terrain makes way for it to be an amazing destination.