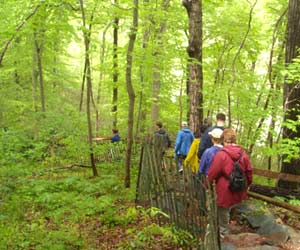 Lansdowne is a perfect place to have a soulful vacation, away from the chaos and clatter of city life. Perched atop at an altitude of 5597ft, the unexplored charm of the place would surely leave you captivated. Add to this, the panoramic view, the salubrious climate and the refreshing beauty of nature. While for some sipping a cup of coffee and watching the hills would be the best bet for spending the vacation in Lansdowne, do not miss on the fun activities that you can indulge in this ecstatic location. Right from trekking to indulging in nature walks, the options are endless. To know more about what are the things to do and see in Lansdowne, browse through the following lines.
Fun Activities to Do in Lansdowne
Nature Walk
Instead of reveling in the charm and beauty of the place superficially, explore the place and soak yourself in its allure. The best way to have an enthralling stay in this hill station would be to indulge in nature walk. Enveloped by thick oak trees and blue pine woods, amidst wild flora and fauna, the place extends tourists just the right opportunity to have a walk in the blissful surrounding. For instance, you can walk up to Tiffin Top, near the Supply Depot, and even stroll around to the Snow View Point, from above the State Bank of India branch.
Bird Watching
The close proximity of Lansdowne to the Sona Nadi division of Corbett National Park makes it an ideal bird watching area as well. There are about 600 species of birds that migrate to Lansdowne every year. So, for those interested in bird watching, all you need to do is just invest in a good pair of binoculars. The colorful birds forming a spectacular plumage in the sky would be an enthralling site for you to revel in.
Trekking
Trekkers are sure to define Lansdowne as a haven, what with the hill station providing umpteen opportunities for hiking. A number of treks into the hillside are launched from Lansdowne, which serves as a popular base camp. You can indulge in simple treks that last for an hour or go for those that last for a couple of days. Some of the trekking trails: