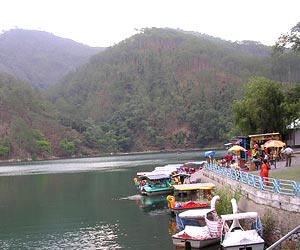 Sat Tal is one of the major tourist attractions, situated in the Nainital district of Uttarakhand. The term Sat Tal, in Hindi, means "seven lakes". The place is so called because it is an interconnected group of seven freshwater lakes, namely 'Panna or Garud Tal', 'Nal-Damyanti Tal', 'Purna Tal', 'Sita Tal', 'Ram Tal', 'Laxman Tal', and 'Sukha Tal or Khurdariya'. Sat Tal is located in lower range of Himalayas, just 23 km away from Nainital city.
At an altitude of approx 4,000 feet, surrounded by dense oak and pine forests, the place boasts of serene, pristine and divine beauty. With most of its flora and fauna left undisturbed, Sat Tal offers its visitors a great opportunity of rendezvous with nature. Placidity and repose, merged with the melody of fresh green fauna, clear blue water and sweet chirping of birds, of the place brings on earth a virtual paradise for tourists.
Apart from the natural serenity that it offers, the rugged mountains of Sat Tal also offer adventurers a wide range of trekking, biking, abseiling, mountain biking, rock climbing, night-trekking, nature trail, backpacking, angling, kayaking, rafting, river-crossing, boating, jungle-safari and night-camping opportunities. One can also enjoy boating and fishing here.
The unique biodiversity of Sat Tal also offers its visitors an exclusive activity of 'bird-watching'. With more than 500 species of natural and migrant birds and 525 species of butterflies, one should not miss the opportunity of lazing on a hammock, with a pair of binoculars in hand, and spotting the most exotic bird species in this area.
Major Tourist Spots
Butterfly Museum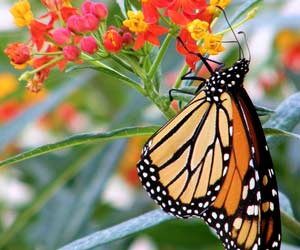 A rich butterfly museum, at Jones Estate, is a major tourist attraction of Sat Tal, with over 2,500 species of butterflies and 1100 species of insects that are native to the Kumaoni region. The museum was established by Federic Smetacek, better known as 'the butterfly man'.
Methodist Ashram
Established in 1930 by Stanley Jones, a great missionary and a friend of Mahatma Gandhi, Methodist Ashram is situated at the entry point of Sat Tal banks. The historical importance and fine colonial architecture of the place make it a popular destination. The famous 'St. John's Church' is also situated within the premises of the ashram.
Subhash Dhara
A must visit spot in Sat Tal would be Subhash Dhara, a gorgeous freshwater spring that comes from the dense forest of Sat Tal, towards the western region. This is a natural spring that mesmerises people with its crystal clarity and beautiful location.
How to Reach Sat Tal
Sattal is the abode of seven beautiful lakes and is cherished by tourists for its spectacular beauty. Reaching Sat Tal is easy since the tranquil town is connected to major cities via road. Sattal is about 23 km from Nainital, 320 km from Delhi and 13 kms from Bhimtal.
Things to Do in Sat Tal
An interconnected group of seven freshwater lakes, Sat Tal can be christened as one of the best places to enjoy natural beauty and bird-watching in Uttarakhand. Sattal is applauded for its biodiversity and is famous for being the abode of approx.
Sat Tal Weather
Akin to other places in the Himalayan region, Sattal experiences pleasant climate round the year. The summer months of April, May and June also observe pleasant climate, making it an ideal getaway for the people from plain lands.