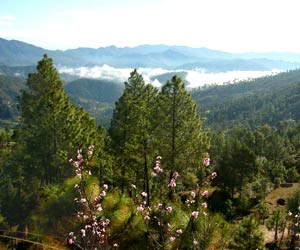 Almora is located in the Kumaon region of the state of Uttarakhand in northern India. It is a quaint town full of life, with a prosperous cultural inheritance and history. It is believed to be the 'Artistic Capital' of the Kumaon region of Uttarakhand. Almora is surrounded by dense and impenetrable pine and fir trees. Rivers Koshi (Kaushiki) and Suyal (Salmale) flow along the city, giving it very charming, postcard perfect scenery for visitors.
It is interesting to note that many prominent personalities have their roots in Almora. Hollywood actress Uma Thurman spent most of her childhood and teenage years in the town of Almora. Famous lyricist Prasoon Joshi, respected artist Uday Shankar and Mohan Upreti have also spent a part of their life in Almora. Famous cricketer Mahendra Singh Dhoni's father stayed here and had farms till 1964. Mahatma Gandhi was a great aficionado of Almora and stayed for fortnights at a stretch.
Tourist Attractions
Almora is a district place located at centre south of Uttarakhand State in India. Situated at an altitude of 1, 638 meters above the sea level, Almora offers breathtaking views of the majestic snow capped Himalayas.
Places to See Near Almora
The town of Almora is an extremely beautiful and hospitable hill station in Uttarakhand. It is a homogenous mixture of its royal past, British heritage and modern comforts.
History of Almora
History of Almora can be traced back to ancient times of Mahabharata. However, the earliest historical account of the place is provided by a Chinese pilgrim of seventh century. The pilgrim wrote in great detail about a kingdom called 'Brahmaputra'.
How to Reach
Almora is a quaint and beautiful little hill station in the Kumaon region of Uttarakhand. The hilly town is well-connected with major destinations of the region through a network of roads including two national highways - NH 24 and NH 87.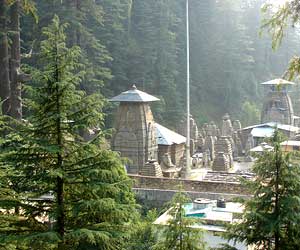 Temples
The town of Almora has forever been associated with mythology, legends and religion, all in one breath. Almora is full of beautiful and ancient temples with many accompanying myths. There are eight Bhairava temples dedicated to Lord Shiva, each one near the entry gates of the city.
Weather
The hill station of Almora is located over a horse-saddle fashioned crest of a Himalayan mountain. Positioned at an elevation of 1,646 m (5,400 ft), Almora has an enjoyable but sometimes cold climate all the way through the year. Almora has an average annual maximum temperature of around 23°C and average minimum temperature of approximately 10°C.
Shopping
Almora has a quite a few shopping centers and a large stretch of covered bazaars. Famous amongst these is an almost 200 year old Lala Bazaar where shopping around is an absolute delight. Then there's old Almora down the cantonment area which was the capital of Kumaoni Chand Rajas.
Things to Do in Almora
Almora is a quaint, historic town that has preserved its heritage in its temples, museums and hospitable natives. If you want to what all is there to see and do in Almora, you must not expect something hip-hop from this place; it is just about natural beauty and long-established heritage. Almora is just about filling yourself with fresh air and savor the spectacular views of mountains and farms.