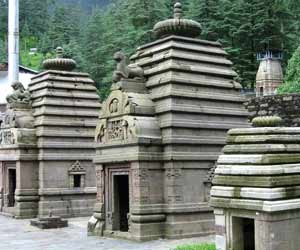 The town of Almora has forever been associated with mythology, legends and religion, all in one breath. Almora is full of beautiful and ancient temples with many accompanying myths. There are eight Bhairava temples dedicated to Lord Shiva, each one near the entry gates of the city. Nine temples are dedicated to the nine forms of Goddess Durga. Some of the major temples in Almora are listed below.
Jageshwar Temple
Jageshwar Temple is complex of a main temple (resident deity) with many small temples of deities of lesser hierarchy. This temple dedicated to Lord Shiva with his Svayambhu or naturally carved idol. Since it is also a Jyotirlinga, its importance becomes multiplies ten times.
Gana Nath Temple
Gana Nath Temple, 47 kms from Almora, is famous for its caves and a Shiva temple. During the special Kartik Purnima carnival held at the temple, the entire region echoes with the sounds of rhythmic hymns and captivating folk songs.
Chaiti Temple
This temple is dedicated to the Gollu Devta, a local Kumauni god, located six kms from Almora. The people of Kumaon have immense faith in Gollu Devta and ritually sacrifice goats for offering the temple. Earlier the temple complex also served as a place for solving any problems of the people.
Katarmal Temple
Katarmal Temple is a magnificent Surya temple also known as Bara Aditya temple. Katarmal is located about 17 kms from Almora and is positioned at an elevation of 2,116 m. One has to trek almost three kms crossing Hawalbagh and Matela near Kosi River. The Katarmal Temple has the distinction of being the only Sun temple in Kumaon.
Banri Devi Temple
Banri Devi Temple is situated 26 kms from Almora on the Almora-Lamgarha Road. However, out of the 26 kms, one has to trek almost ten kms and hence reaching this temple is extremely arduous. The octagonal temple has an ancient idol of Vishnu with the Sheshnag pose, i.e. the four armed Vishnu sleeping on the Sheshnag.