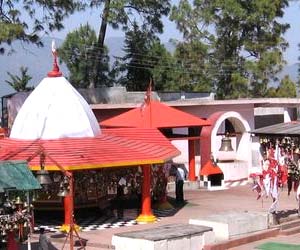 Almora is a quaint, historic town that has preserved its heritage in its temples, museums and hospitable natives. If you want to what all is there to see and do in Almora, you must not expect something hip-hop from this place; it is just about natural beauty and long-established heritage. Almora is just about filling yourself with fresh air and savor the spectacular views of mountains and farms. Read this article to know about things / fun activities to do in Almora.
Visit Temples & Churches!
Chitai Temple is a famous temple, about 8kms from Almora, dedicated to Gollu Deva - the revered Kumaon Deity. Then there is one Katarmal Sun Temple, which was built over 800 years ago by the Katyuri rulers. This temple complex has nearly 50 stone temples. If you're visiting Almora in spring, then invest some time in Mahashivratri Mela which is worth experiencing. About 6 kms from Almora is Kasar Devi Temple which is just about serenity and peace. Methodist Church is a stone-built church that was built in 1897, and is worth exploring.
Discover the Heritage!
Gobind Vallabh Pant Public Museum, near the Bus Stand, is a treat for art lovers as here you can cherish a rare collection of art and crafts, ĎApení folk-paintings, etc. This museum also has letters from Sardar Vallabh Bhai Patel to GB Pant and pamphlets used for protest marches during the struggle for independence.
Laze Around!
Bright End Corner is the famous place where you can enjoy the lovely views of the sunrise and sunset. It is a great place to sit back and take in the views of neighboring mountains. You can take a stroll on the Mall, or walk around just to relax your feet and soul. If you wish to, then spend some bucks to get the souvenirs for friends and relatives at home.
Indulge in Trekking!
Trekking could be the best activity if you have to do nothing else. You can take the steep 3kms trek up from Ranikhet Road. Here you will discover the Govind Ballabh Pant Institute of Himalayan Environment and Development. From here, Katarmal is another 1-km trek. Across the valley, you can observe the 900-year-old Bara Aditya Temple, which is the only Surya Temple in Kumaon. The serious trekkers can try Almora - Jageshwar trek. This low-altitude trek takes you through beautiful terraced fields and forests into charming Kumaoni villages. The trek is 41 km long and can be covered in fours days.