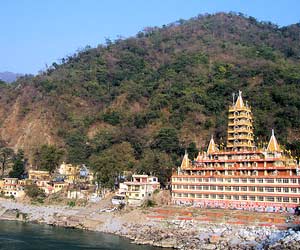 Rishikesh is a small town situated 532 m (1,745 ft) above sea level in Dehradun district of Uttarakhand. Located about 42 Km from the state capital Dehradun and 25 Km from Haridwar, Rishikesh is an important destination since it acts as an entry point for pilgrimage to the four most holy Hindu pilgrimages in India commonly known as the 'Char Dham'. It is here that holy river Ganga meets river Chandrabhaga.
The place got its name from Raibhya Rishi who got to see the divine form (Darshan) of Lord Vishnu here. In Skanda Purana the region has been mentioned as Kubjamrak.It is also said that Lord Rama did penance here for killing Ravana. Historically, Rishikesh was a part of the ancient Kedarkhand (or the modern day Garhwal), the supposed home of Lord Shiva. River Ganga flows through the town in its most unruly, turbulent and fierce form. Today Rishikesh has earned the sobriquet of the Yoga Capital and Adventure Sports Hub.
Adventure Sports in Rishikesh
Topography of Rishikesh is blessed with turbulent rivers, getting their energy from various rivulets and tributaries from the glaciers above. These rivers and their nearby areas make excellent spots for adventure sports like White Water Rafting, Canoeing, Trekking, Rock-Climbing / Mountaineering, Camping and Skiing (especially in winters).
Attractions
The holy city of Rishikesh has a number of temples, ashrams and spa resorts. One just needs the energy to explore the town. At Rishikesh one can take pleasure in the untamed ferocity of nature as well as its tranquil and picturesque beauty.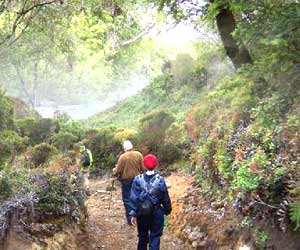 Bharat Mandir
Bharat temple is situated in the heart of the township of Rishikesh. It is approximately half kilometer away from the Triveni Ghat, the famous river bank in the town. Said to be the oldest temple in Rishikesh, it is also regarded as one of the most ancient shrines in India.
How to Reach
Rishikesh is beautiful city with little pollution and an ancient charm. Located close to the holy city of Haridwar, Rishikesh is famous both as a pilgrimage and as an adventure sports hub. One can reach Rishikesh by various routes from all over India quite easily.
Things to Do in Rishikesh
If you are fed up of the hectic city life and want to take a break for a few days, then heading towards Rishikesh is a very good idea. Situated in Uttarakhand, at the foothills of the Himalayas, the town sprawls on the banks of the Ganges, which lends it a clean and pristine beauty.
Laxman Jhula
Lakshman Jhula, the famous hanging bridge across Ganga, is about 3 km from the main township of Rishikesh. It is 450 feet long and is situated at a height of 70 feet from the river. As per mythological tales, once Lakshman, the younger brother of Lord Rama, crossed river Ganga at the same site where the bridge now stands.
Neelkanth Mahadev
Neelkanth Mahadev is an ancient temple situated at a height of 1675 m, on a hill above Swarg Ashram. It stands adjacent to the mountain ranges of Nar-Narayan, at a distance of approximately 20 km from Rishikesh. It is enveloped between the valleys of Manikoot, Brahmakoot and Vishnukoot.
River Rafting
River rafting is an adventurous recreational sport that is being explored by a wide proportion of people now-a-days. In this adventure sports, a raft is used to navigate a gushing river, making it a very thrilling, at times scaring and extremely breathtaking experience.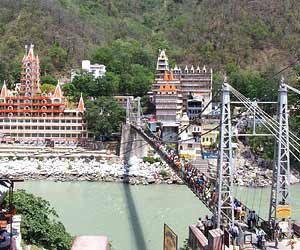 Swarg Ashram
Swarg Ashram is a small township located 5 km upstream from Rishikesh, on the left bank of the Ganges, opposite to Shri Shivananda Ashram. It can be reached by two ways - either by crossing river Ganges by boat or by walking through the Ram/Shivanand Jhula built across the river.
Trekking
An outdoor activity that involves 'hiking' in mountain regions is called 'trekking'. Rishikesh, apart from being an ideal location for rafting and cannoning, is also considered one of the best destinations for trekking activities in India. The strategic location of Rishikesh, in Uttarakhand - situated at the foothills of Himalayas, attracts lots of trekking enthusiasts.
Weather
Located at an altitude of 532 m or 1,745 ft above sea level, Rishikesh is heaven for those seeking some gala time in the cool and calm environment. The place is blessed with a temperate climate all the year round which makes it a perfect destination for a quick visit. Its level of elevation greatly affects its everyday weather and climate.
Yoga
Yoga is an invaluable source of knowledge, endurance, spirituality and fitness. It brings across the perfect blend of spiritual intelligence and physical fitness in a person's life. This ancient Indian art finds its origin in the 'Patanjali Shastra'. Rishikesh, a holy destination in Uttarakhand, has been an important center of Yoga learning for long.
Shopping
Rishikesh is a small town lying at the confluence of rivers Ganga and Chandrabhaga. Rishikesh see visitors of all kinds - pilgrims, people visiting for the purpose of Yoga and Ayurveda or adventure sports.