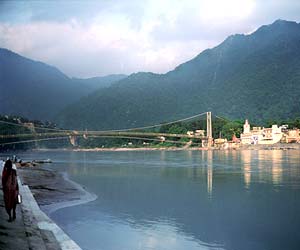 Located at an altitude of 532 m or 1,745 ft above sea level, Rishikesh is heaven for those seeking some gala time in the cool and calm environment. The place is blessed with a temperate climate all the year round which makes it a perfect destination for a quick visit. Its level of elevation greatly affects its everyday weather and climate. Also, river Ganges cools down any extra heat forming on its surface so it is a secondary reason for Rishikesh's balmy atmosphere.
The weather of Rishikesh is quite changeable, it can rain (accompanied by chilly winds) any time. The maximum temperature in summers can go upto 40
o
C and 25
o
C in winters. The yearly average rainfall in Rishikesh, though varying, approximately remains about 2136.7 mm.
Summer in Rishikesh begins 'properly' in the month of June accompanied by little rainfall. The temperature touches its pinnacle at that time. After that comes the monsoon around end of July to August. The only drawback during the monsoon is the daytime heavy rainfall it brings sometimes. After a few showers the heat from summer starts to subside. The monsoon lasts till mid-September, after which the autumn begins. The time period between mid-September and November lends a magical aura to the entire place and many visitors believe it to be the best time to visit Rishikesh.
Winters in Rishikesh start from November end and prevail till mid-February. One would need woolens and shawls during this time. Sometimes the temperature reaches below the freezing point in the night. February onwards one can expect the sporadic rainfall giving way to the lovely blossoms of spring.