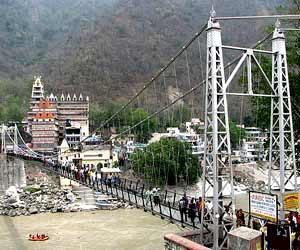 Lakshman Jhula, the famous hanging bridge across Ganga, is about 3 km from the main township of Rishikesh. It is 450 feet long and is situated at a height of 70 feet from the river. As per mythological tales, once Lakshman, the younger brother of Lord Rama, crossed river Ganga at the same site where the bridge now stands. At that time, there was only a suspension bridge, made of jute. After this incident, the bridge came to be known as 'Lakshman Jhula'. With time, the jute bridge eroded and a new iron bridge was built along the same path in 1939.
Lakshman Jhula is actually an adjoining bridge across the Ganga, along the old route to the holy shrines of Badrinath and Kedarnath. The jhula has now become one of the most visited tourist spot of Rishikesh, not simply because of its ancient origin and religious sanctity, but also because of the grand temples and wonderful local markettht have come to be developed around it. A thirteen storey temple, called Terah Manzil, near the Lakshman Jhula is very popular amongst visitors. The top floor of this temple gives a wonderful view of the surroundings.
Another temple around the bridge is the 'Lakshman temple', with Risha Kund. According to locals, Lord Ram and Lakshman took bath in the kund, after killing Ravana, to get rid of their sins. The entire area around the Lakshman Jhula gives a mystic, holy and serene feeling. As you see people lost in the religious traditions, the entire area gets submerged in enchanting mantras and shlokas from the temples. The market around Lakshman Jhula is famous for wooden goods, Rudraksha, Idols of Gods and Goddesses, holy books, gems, local jewelries, clothes and excellent street food.