Dehradun is the capital city of the state of Uttarakhand. It is a well known tourist destination for a long time. Besides being a travel destination, the city is also known for public schools, IMA and other national institutes. The entire district is surrounded by the mighty Himalayas in the North, aging Shivalik Hills in the South, the River Ganga in the East and River Yamuna in the West.
The soil of the region is very fertile and most plants and trees grow quickly and bear bountiful fruits. Dehradun has a Sub-Tropical type of weather with chilly winters, humid and crisp springs, scorching summers and a strong monsoon. Dehradun has premium educational and research institutes such as Indian Military Academy (IMA), Indira Gandhi National Forest Academy, Indian Institute of Remote Sensing and Indian Institute of Petroleum. Excellent schools like the Doon School, Welham School for Girls & Boys, Army School and Rashtriya Indian Military College are also present there.
Attractions
Dehradun is one of the most visited tourist attractions in Uttarakhand, mostly as a brief stopover en route Mussoorie. Located on the foothills of the Himalayan mountain range, Dehradun is a striking yet serene place. It is thought to be one of the oldest (read as ancient) cities in India.
Chakrata
Chakrata is a small town near Dehradun which served as an infantry base during the British rule. It is especially known for tranquil, beautiful and pollution free surroundings. The hill station is positioned between the Rivers Tons and Yamuna at an altitude of 5,500-6,500 ft.
Dakpathar
Strategically positioned near the banks of mighty River Yamuna, Dakpathar in Dehradun has recently been developed into a leisure spot. The brainchild of the GMVN (Garhwal Mandal Vikas Nigam), Dakpathar is naturally exotic surrounded with forests and bejeweled with lush green lawns and gardens.
Places to See Near Dehradun
The capital city of Uttarakhand, Dehradun is famous for its scenic grandeur and beautiful surroundings. Dehradun and its surrounding places are adorned with the beauty of the Himalayas. There are several historical places, temples, natural springs, parks, picnic spots in the city's vicinity, which are surely worth a visit.
Sahastradhara
Its name deciphered as the 'Thousand Fold Spring' in English, Sahastradhara is one of the most beautiful and serene picnic spots in Dehradun . It is very popular amongst both the locals as well as the tourists coming to the city. Its name emerges from the fact that the water literally drips down from limestone stalactites numbering thousands.
Guchhupani & Lachhiwala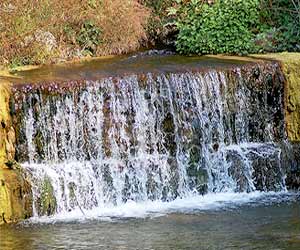 Dehradun is a beautiful place with lots of picnic spots. Two of these are quite famous, namely Robber's Cave (also known as Guchhupani) and Lachhiwala. Though they have different attractions to entice people, both these places are ideal examples of the treasures of nature in Uttarakhand.
How to Reach
Dehradun is a captivating place situated amidst the foothills of Himalayas in the state of Uttarakhand. This article will guide you on the various ways of reaching this beautiful city which is linking point for Haridwar and Rishikesh. Dehradun is well connected with direct trains to important towns.
Things to Do in Dehradun
Dehradun, the capital city of Uttarakhand, is nestled amidst the thickly forested valley of the Shivalik ranges. Known for its salubrious climate, natural beauty and proximity to Mussoorie, the city was once a major base of the Garhwal kings. Today, it counts amongst the major cities of India, from tourism point of view as well as otherwise.
Malsi Deer Park
Malsi Deer Park, located in the outskirts of Dehradun, equally enthralls both the adults and children. It is one of the major tourist attractions in the city and also acts as a savior of natural environment from unnecessary business propositions. It falls on the way to Mussoorie (with a little diversion of course), another highly rated tourist spot.
Mindroling Monastery
The Mindroling Monastery has a long history. Mindroling (pronounced as Minh-dro-lyng) literally means a 'Place of Perfect Emancipation' in Tibet and is a place of worship for the Nyingma sect of Buddhism. This sect has a total of six monasteries in Tibet, including the one in the Lhasa region of Tibet, on the south side of the Tsangpo River.
Tapkeshwar Temple
Dehradun is full of legends but so is the state of Uttarakhand it is situated in. The entire region was once supposed to be submerged under a lake but environmental changes made it a terrestrial heaven. There is a lot to see in the Doon Valley (as it is locally called), especially temples and the rivulet forests.
Weather
The geographical location of Dehradun is mainly responsible for the ever-changing but pleasant weather of Dehradun. Dehradun has a sub-tropical climate with cold winters, warm and colorful springs, humid and hot summers and an elongated monsoon.
Indian Military Academy
Located in Dehradun, the Indian Military Academy is an institution that trains men who officer the Indian Army. The Indian Military Academy became functional from 1st October 1932 with batch of 40 Gentlemen Cadets. Brigadier L.P. Collins was its first commandant.
Shopping
Shopping in Dehradun, Uttarakhand's capital city, with well stocked markets and shopping complexes, is an absolute delight. When you happen to visit Dehradun, don't forget to look for traditional Dehradun basmati rice which is world famous for both, its aroma and taste. Also the delicious Chakarata Rajma is available in the markets here that you can take home.