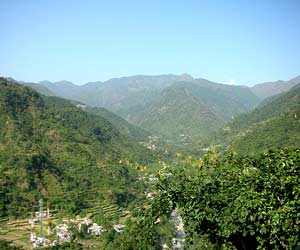 The geographical location of Dehradun is mainly responsible for the ever-changing but pleasant weather of Dehradun. Dehradun has a sub-tropical climate with cold winters, warm and colorful springs, humid and hot summers and an elongated monsoon. Since Dehradun is an inter-mountain valley and is positioned between an altitude of 2,300 - 3,300 ft (1000 m) above sea level and is surrounded by forests and mountains, its weather changes abruptly sometimes.
The spring here remains from the months March to mid April with a mild temperature, sunny days and pleasantly cool nights. Summer follows the spring season from mid April to June end. This time period is has very contrasting temperature with extremely hot days and erratic rain showers bringing cold winds.
From August to October the monsoon takes over and not one day goes without a heavy rain shower. When the temperature dips due to the weather, hailstorms can also happen. It gets really humid (about 91%) at times. November is fall season and all the trees in the vicinity (and there are a lot of it) turn into colors of gold, auburn and ochre to show the nature's color palette.
By the time November ends, its winters and one needs to be really prepared for foggy early days, balmy days, windy evenings and ice cold nights. February also sometimes sees winter monsoon.