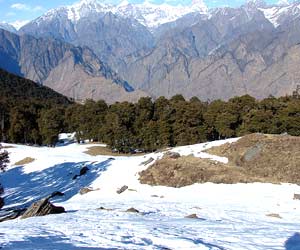 Auli is a picturesque Himalayan destination located in Chamoli district within the hill state of Uttarakhand in India. Situated between altitude range of 2, 500 - 3, 050 meters above the sea level, Auli offers breathtaking 180 degree views of surrounding higher Himalayan peaks like Nanda Devi (7, 817 m), Kamet (7, 756 m), Mana Parvat (7, 273 m) and Dunagiri (7, 066 m).
Auli, cradled in snow white Garhwal Himalayas, is amongst the most well known skiing resorts of India. The skiing slopes of Auli are comparable to the best in the world. Besides, the natural splendor of coniferous high altitude vegetation that dresses its slopes is sure to compel you to fall in love with Auli.
During the months of January - March, Auli is packed with skiing enthusiast. National championships apart from the various skiing courses are conducted here. The entire skiing resort of Auli is maintained by the Garhwal Mandal Vikas Nigam (GMVN), an autonomous body of Garhwal region in Uttarakhand state.
The beautifully snow blanketed sopped of Auli are dotted with coniferous vegetation that cut wind velocity to a minimum, thus promising the skiers a thrilling experience. Skiers at Auli, enjoy almost 20 km of virgin slopes, which provide excellent opportunities for cross-country, slalom and down-hill events.
Joshimath - Auli Cable Car / Ropeway
Apart from driving to Auli, one can choose to take the cable car from Joshimath to Auli. The ropeway journey cuts the distance to 4 km only. The journey by cable car offers breathtaking views of snow capped Garhwal Himalayas. It is a thrilling experience not to be missed.
The cable car services are provided by the GMVN. A round trip journey fare is Rs. 400. The car covers the 4 km length of the ropeway in about 20 minutes. The exciting journey starts from an altitude of 6254 ft. in Joshimath and ends at 9896 ft. in Auli.
How to Reach Auli
Auli is one of the most picturesque hill stations in Uttarakhand. Replete with lofty mountains, fascinating valleys and superb location, Auli can be easily termed as the heaven on earth. Located in the Chamoli District of Uttarakhand, it has not railway station or airport of its own. However, traveling to Auli would be an adventurous journey in itself. There is an airport and railway station located at a distance which connects this paradise to the plains below.
Tourist Attractions in Auli
Auli, situated in Chamoli district of Uttarakhand, is a famous ski destination. It is perched at a high altitude of 2,500 meters. The place is known as 'Bugyal' in the local language which can be understood as meadows. Auli is comparable to the best ski resorts of the world according to some French and Australian experts.
Things to Do in Auli
Auli is a mecca for people who are interested in having a fun-filled, thrilling vacation, right in the lap of the Himalayas. With snow-clad mountains on all sides, you are sure to get an experience of your lifetime. Apart from just filling in the enriching beauty of the site, you can also dwell in a lot of fun activities.
Auli Weather
Auli, though less known, is one of the most strikingly stunning hill stations in the Indian state of Uttaranchal. The place offers a breathtaking view of the lofty peaks and the spectacular valleys. Enveloped by the greatest mountain range in the world, the Himalayas, the climatic condition of Auli is favorable all throughout the year,