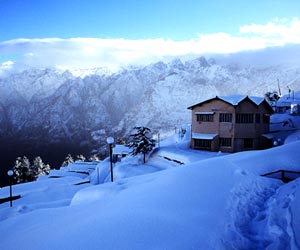 Auli, though less known, is one of the most strikingly stunning hill stations in the Indian state of Uttaranchal. The place offers a breathtaking view of the lofty peaks and the spectacular valleys. Enveloped by the greatest mountain range in the world, the Himalayas, the climatic condition of Auli is favorable all throughout the year, which means you can visit this beautiful hill station any time, whenever you feel like. The summer season mostly begins from the beginning of March and continues till June. Temperature during this period rarely reaches the 30 degree mark. Mostly the average temperature of Auli during the summer season goes a little above 15
0
C.
The arrival of July marks the onset of monsoon as well, with temperatures dropping to about 12
0
C. The downpour lasts till October after which the chilly days start. While mercury rises to a maximum of 24
0
C, it drops below the freezing point or the sub zero level. The average minimum temperature reaches the 4 degree mark. However, as per records, Auli is also reported to have -8
0
C. If you love to play with snow and are interested in skiing, December to February would be the ideal time. However, if you are looking forward to spending a relaxed vacation in the outdoors, the best bet would be to visit Auli from May to November. The period from January to March is the peak tourist season as Auli is packed with skiing enthusiasts during this time.