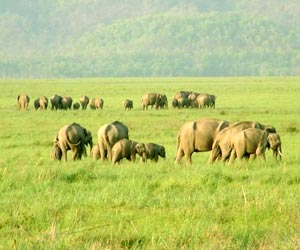 Jim Corbett National Park, located in the Nainital district of Uttarakhand, near Ramnagar-Kashipur highway, sprawls over an area of 520 sq km. The national park also takes in the Patli Dun valley, formed by the Ramganga River. It used to be just another Himalayan forest until the year 1936, when it was demarcated as a reserve area by the British Government and named 'Hailey National Park' Prior to 1936, the Maharaja of Rewa exploited this place as his 'shikar jungle', largely due to the varied vegetation and animal population that it offers. It was in 1954-55 that this place was renamed for the first time, as 'Ramganga National Park'. The next year, it was renamed once again and called 'Jim Corbett National Park'.
Jim Corbett National Park was declared as an almost exclusive tiger reserve on 1st April 1973, with the help of World Wildlife Fund. With this, it became one of the first national parks in India to be turned into a tiger reserve. Jim Corbett Tiger Reserve boasts of a very varied geography, which ranges from hilly and riverine areas to temporary marshy depressions, plateaus and ravines. This very feature, combined with the fact that it boasts of quite a rich and varied wildlife, has made it a popular destination amongst tourists, both locals as well as foregin. Since the place is situated on the lower Himalayan belt of vegetation, it serves as an eco-tourism spot as well.
Flora
Jim Corbett National Park boasts of a wide diversity in its flora. There are over 488 species of flora residents here, which comprises of about 110 species of trees, 51 species of shrubs, 27 species of climbers and 33 species of bamboo and grass, apart from bhabar. As much as seventy five percent of the national park stands covered by Sal Shorea robusta species of tree. In some of the areas, you might be able to spot Sal as well. The trees that you can commonly find here include Haldu Adina cardifolia, pipal Ficus religiosa, Rohini Mallotus philipensis and mango Mangifera indica. The stretch along Ramganga River boasts of Sheesham Dalbergia sissoo as well.
Fauna
There is a wide variety of animal, bird, reptile and fish species at Jim Corbett National Park. The wild animals that can be seen here include tiger, leopard, elephant, chital, sambar, hog deer, barking deer, wild boar, langur, wild pig, rhesus monkey, sambar and jackal. Amongst the birds, you would spot peacock, jungle fowl, partridge, kaleej pheasant, crow, vulture, parakeet, laughing thrush, oriole, kingfisher, drongo, dove, woodpecker, duck, teal, stork, cormorant and seagull. The park also houses reptiles like Indian marsh crocodile, gharial, King cobra, common krait, cobra, Russels viper, python, and monitor lizard and the fish species of mahaseer, kalimuchi, kalabasu, chilwa and goonch.
How to Reach Corbett
Located at the foothills of Himalayas in Uttarakhand, Corbett National park is one of the oldest national parks of India and is very popular among tourists from every nook and corner of the country. The park was initially established with the purpose of defending the endangered tigers of Bengal.
Things to Do in Corbett
Located in the Ramganga valley of Uttaranchal, Corbett National Park is at a distance of 263 kms from the national capital, New Delhi. A trip to Corbett Park would make for some real adventure and fun amidst wild life and natural splendor.
Corbett Weather
The Jim Corbett National Park has a temperate climate with three main seasons namely summer, winters and monsoons, just like the rest of India. The seasonal variations and changes in temperature have been well adapted to by the exclusive wild life species taking refuge in the Corbett reserve.