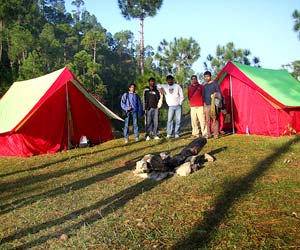 Located in the Ramganga valley of Uttaranchal, Corbett National Park is at a distance of 263 kms from the national capital, New Delhi. A trip to Corbett Park would make for some real adventure and fun amidst wild life and natural splendor. It is, especially, meant for those who love to connect with nature and wish to see wild life in its natural habitat. For the vagrant souls who seek the thrill and excitement of being in the middle of wild animals, Corbett tiger reserve is just the ideal destination. It offers an exciting range of activities and things to do and see. Below listed are some of the interesting things for visitors to try in the Corbett tiger reserve.
Fun Activities to Do in Corbett National Park
Camping & Night Stay
Tourists can haunt the Corbett Park for a complete day by staying for a night in the reserve. Camping options in Jim Corbett are provided by the forest guest houses which are located inside the national park. Tourists can also put up in Dhikala, which is located at the edge of Patli Dun valley through which the river Ramganga flows. It is one of the most popular tourist destinations in Corbett as it offers an uninterrupted birdís eye view of the entire valley.
Fishing
Fishing in Corbett is permitted in Ramganga, Kosi, Mandal and Kothari rivers. Seek permission from the park authorities before you go on fishing. You can hire rods which are available inside the reserve. Resorts in Corbett also arrange for fishing and angling trips.
Trekking
Walking inside the Corbett Park is not allowed but you have the option to trek in the forest reserves around the park. Step into your trekking shoes and wear natural earth colors when you go on trekking. Be prepared for the freezing cold in winters. Donít forget to take your binocular along. Take care not to disturb the natural habitat of the reserve and make minimum noise.
Wildlife Sighting
Sighting the exquisite wild life in Jim Corbett National park is going to be the ultimate fun. Apart from tigers, leopards and lesser cats such as leopard cat, jungle cat and fishing cat are also to be sighted in the Corbett Park. The other wild life attractions include the sloth bear, Himalayan black bear, dhole, jackal, yellow throated marten, Himalayan palm civet, Indian grey mongoose, common otter, porcupine, and black naped hare. Elephants are another major attraction and are to be seen all over the park. Four species of deer are also found which include barking deer, para, kakkar, and the spotted deer.
Bird Watching
Corbett national park is home to over 580 species of birds, a treat for the birdwatchers. Most of the water birds are migrants and visit the park in winters. Some of the migrant Corbett birds are graylag, bareheaded goose, duck grepe, snipe, sandpiper, gull and wagtail. The resident birds are darters, cormorants, egrets, herons, the black-necked stork and the spur winged lapwings.
Elephant Safari
Elephant safari provide a perfect opportunity to see the jungle in its full glory sitting royally on the back of an elephant. Since, the elephants walk through different terrains, crossing a village, the rider gets to see a different wildlife. One will be able to see some mammal species like wild elephants, barking deer, ghoral, sambhar, rhesus monkey, Wild boar, jackal, porcupine, langur, etc. The elephant also gives a better access to view the birds as you are stationed at a certain height.
Jeep Safari
A jeep safari is also a great way to check out the natural wonders of Corbett National Park. In fact, jeep safari is the most popular attraction of this natural reserve. Jeeps can be taken on rent from the Tourist Lodge of KMVN, from Ramnagar or from other travel agencies. Viewing the entire range of flora and fauna on a jeep will be an unforgettable journey for the visitors. Jeep safari is most suitable for those who want to take a quick look through the reserve.
Kids Corner
To woo the kids and keep them hooked, Corbett Park has special 'earth camps'. These earth camps started in 2004 with the aim of bringing children closer to some specific biomes to give them a direct and absorbing experience with nature. These biomes are custom made to match the specific requirements of biology curriculums of school going children.