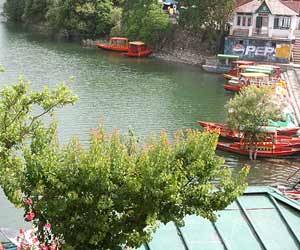 Naukuchiatal is, perhaps, the most beautiful of all the lakes in Uttarakhand. A unique nine-cornered lake, it is situated 24 km away from Nainital, in the foothills of Kumaon, at an altitude of 1,219 meters. The beautiful lake is alimented by an underwater spring. Naukuchiatal Lake is surrounded by dense oak forests from all the sides. The first sight of this tranquil lake is mesmerizing and eye-soothing, sure to leave you wanting for more. A famous perception amongst the locals is that whoever sees all the corners of the lake at the very first shot attains 'Nirvana', a state of complete bliss, delight and peace.
Naukuchiatal is a must-visit for those who love getting lost in the serenity of nature. The enchanting views of meadows and pastures that the lake provides to its visitors make it look more picturesque. This is a perfect place to get away from all the rush of the cities and rejuvenate your body as well as soul. An overview of Naukuchiatal gives an assumption of 'picture-perfect' beauty. The captivating surroundings and varied biodiversity that can be seen in the area within 10 km radius of Naukuchiatal gives it the perception of virtual heaven.
Naukuchiatal is the perfect location to observe and admire the variety of wildlife species the almighty has blessed earth with. It is the place where you can enjoy the becharming compilations of colorful butterflies and the beautiful variety of Himalayan birds. Not simply because of its incomparable beauty, but also because of the uncommon adventurous opportunity it offers, the lake is a hit amongst tourists. Activities like angling, trekking, bird-watching, paragliding and parasailing attract a major chunk of Uttarakhand-visitors to this place.
How to Reach Naukuchiatal
Naukuchiatal is best known for its nine-cornered lake and most of the people visit this lake in conjunction with Nainital. However, if you're planning to spend this weekend at this tranquil destination, you'll find this article of adequate importance. Naukuchiatal is about 26 kms from Nainital, 35km from Kathgodham and 4 kms from Bhimtal.
Things to Do in Naukuchiatal
Urbanites usually move to highlands to spend some time, relaxing in peaceful locales. Some people find lazing around relaxing, while some try to indulge in fun activities to recharge themselves. Naukuchiatal is one such place to unwind and spend some quality time with your own self.
Naukuchiatal Weather
Naukuchiatal enjoys cool weather round the year, all thanks to the Himalayan region. The weather, here, is most of the time pleasant with the exception of January because it's the snowing season. Sited at the altitude of 1219 mtr, Naukuchiatal enjoy salubrious climate throughout the year. In summers, the average temperature varies between 27°C (max) and 10°C (min).