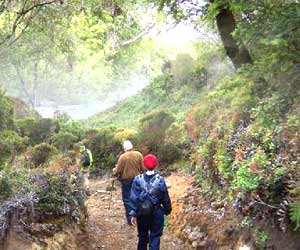 If you are fed up of the hectic city life and want to take a break for a few days, then heading towards Rishikesh is a very good idea. Situated in Uttarakhand, at the foothills of the Himalayas, the town sprawls on the banks of the Ganges, which lends it a clean and pristine beauty. Apart from being famous as the entry point to the 'Char Dhams of India', Rishikesh is also renowned for serving as the base for a number of adventure activities. Through this article, we intend to make you aware of what to do and see in Rishikesh.
Fun Activities to Do in Rishikesh
Yoga & Meditation
Rishikesh has been serving as an important center for yoga and meditation in India, since a long time. There are a large number of ashrams in the city, where qualified gurus teach this ancient practice, at the basic as well as professional level. Yoga Study Centre, Yoga Niketan Ashram, Swami Dayananda Ashram, Sri Ved Niketan Ashram, Sivananda Ashram, Ananda Prakash Ashram, and Rishikesh Yog Peeth are the most popular yoga ashrams in Rishikesh.
Ayurveda & Spa
When in Rishikesh, do make sure to pay a visit to the world-famous, super-luxury Ananda Spa. It is located Narendranagar, approximately 16 km from Rishikesh, in the erstwhile palace of the Maharaja of Tehri-Garhwal. One visit to this spa resort and you will find yourself completely refreshed and rejuvenated. In fact, it is best place to get back your old energy levels.
River Rafting
Adventure seeks, not only from the corners of India, but the whole world, come to Rishikesh, to exploit the river rafting opportunities that it offers. The best time for rafting in Rishikesh is September to November and March to May. The most popular stretches here are Brahmpuri to Rishikesh, Rishikesh to Shivpuri, Devprayag to Rishikesh, Kudiyala to Rishikesh, Kaliasaur to Rishikesh, and Marine to Rishikesh.
Boating
If you like to play in water, but do not want to indulge in something as adventurous as white water rafting, don't be disappointed. Rishikesh offers you the option of boating in the holy waters of the Ganges. You will love the experience of floating on river Ganga, while exploring the exquisite natural beauty all around.
Trekking
For the trekking enthusiasts, Rishikesh offers some of the most scenic trails, which help them explore the natural beauty of the place from up close. Kauri Pass Trek, Roop Kund Trek, Devi National Park Trek, KalindiKhal Trek, and Kankul Khal Trek are the best treks in the area. Best explored between the months of February and October, these treks take you through dense forests, maundering rivers and wild mountain ranges.
Jungle Safari
Though many people are unaware of the fact, Rishikesh also provides its visitors the option of going on a jungle safari. This particular activity owes its origin to the Rajaji National Park situated nearby. The rich and varied wildlife of the parks, combined with their diverse fauna, will woo you no end.
Rock-Climbing / Mountaineering
Since Rishikesh is situated at the foothills of the Himalayas, it offers the visitors opportunities of rock-climbing and mountaineering as well. These activities are usually organized at George Everest House, in Phool Chatti (situated near Rishikesh). Apart from mountaineering and rock climbing equipment, you will also get trained instructors here.
Camping
One of the best ways to commune with nature is to spend sometime in its lap. What better way to do this than by staying in camps for a day or two. In Rishikesh, you will find numerous organizations offering camping facilities along the Ganges. Then, there are many camps that start just after Rishikesh and go up to Kaudiyala and Shivpuri, along the white sand beaches of Ganga River.
Pilgrimage
Rishikesh is counted amongst the holy cities of India. Apart from situated on the banks of river Ganga, its sanctity arises from the fact that it serves as the gateway to four most revered pilgrim destinations in India, also known as the 'Char Dhams'. Then, there is Bharat Mandir and Neelkanth Mahadev, two famous temples in Rishikesh that are worth visiting.