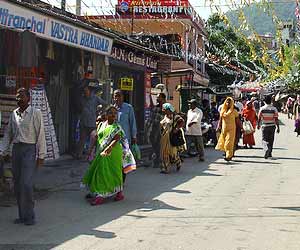 Rishikesh is a small town lying at the confluence of rivers Ganga and Chandrabhaga. Rishikesh see visitors of all kinds - pilgrims, people visiting for the purpose of Yoga and Ayurveda or adventure sports.
Since people visiting are for diverse purposes, Rishikesh has a market place which stocked well enough to meet all your needs. Whether it is puja essentials, ayurvedic medicines or rafting equipment, you get it all here.
Rishikesh, being en route famous pilgrimage destinations like Badrinath, Gangotri, Yamunotri and Kedranath, proves to be a good stopover destination. On the Ghats of river Ganga, you will find small shops selling containers which people generally buy to carry back home Ganga Jal.
Also, in the markets here, you will find shops selling gems, precious and semi-precious stones, cloths, puja items and CDs of bhajans.