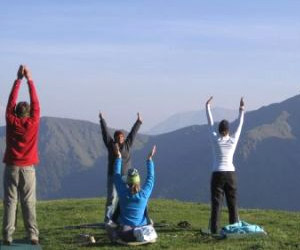 Yoga is an invaluable source of knowledge, endurance, spirituality and fitness. It brings across the perfect blend of spiritual intelligence and physical fitness in a person's life. This ancient Indian art finds its origin in the 'Patanjali Shastra'. Rishikesh, a holy destination in Uttarakhand, has been an important center of Yoga learning for long. Apart from yoga, the place is also well known in the fields of meditation and spiritual aerobic arts, which are quite similar to yoga. Home to many renowned yoga ashrams, Rishikesh is an ideal place for practicing the ancient discipline.
Many of the renowned yoga gurus have their ashrams in the city, conducting courses in basic as well as professional yoga. The yoga culture is so popular in Rishikesh that each year, in the first week of February, Rishikesh hosts the International Yoga Festival, attended by almost all the well known professional yoga practitioners in the country and even abroad. Many Indian and foreign tourists come to the city during this time, for a yoga-tour.
The yoga practiced in Rishikesh is that of ancient-Indian origin, much different from the westernized-yoga practiced in other parts of the world. The healthy air and serene environ of the town cure many yoga learners of their minor health problems, which have emerged due to a messed-up routine of daily life. The holy saints here instruct the methods to develop positive energy within oneself and impart heavenly blessings to the people coming for yoga treatments.
In Rishikesh, yoga is taught with the aim of empowering the learner with positivity and brighter spiritual side. You can learn the discipline from any of the numerous ashrams situated in the town, depending upon your desired level of perfection in the art, time constraint and budget. Some of the ashrams in Rishikesh that are extremely famous for yoga include: