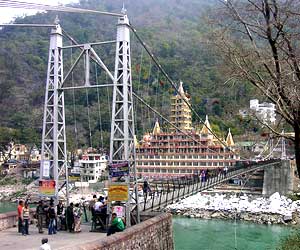 The holy city of Rishikesh has a number of temples, ashrams and spa resorts. One just needs the energy to explore the town. At Rishikesh one can take pleasure in the untamed ferocity of nature as well as its tranquil and picturesque beauty. Though Rishikesh is generally known to be a pilgrimage place for most but these days it's also getting famous as an adventure sports center.
Laxman Jhula
The Laxman Jhula is supposedly one of the principal tourist attractions in Rishikesh. Mythologically it is stated that Laxman (of Ramayana) had traveled across the Ganges River in this place with the help of jute ropes. Now though, a 1939 suspended iron bridge continues to be present here.
Bharat Mandir
It is said that Adiguru Shankaracharya, an ancient Hindu saint, constructed this temple in 12th Century. It is the oldest temple in Rishikesh and is located on the bank of Ganga in the older part of the town of Rishikesh.
Neelkanth Mahadev
According to Hindu mythology, when the ancient deep-sea was being agitated for 'amrita' (immortality nectar) by the gods and demons, the life extinguishing poison came out of it. Lord Shiva generously (and purportedly) consumed it here and that event inspired the name for this place.
Rishi Kund
According to legends, Goddess Yamuna (the river goddess) was so delighted with Saint Kubz that she filled the tank with the celestial water.
Triveni Ghat
Located on the banks of River Ganga, thousands of people come together here every day to take a holy dip in the sacred river. People sit on the river bank to observe the spiritual gatherings called "Aarti" performed during evening every day.
Swargashram
This is basically a temple complex with one main and few smaller temples inside it. All the temples are exceptionally stunning and certainly worth a visit, even just once.