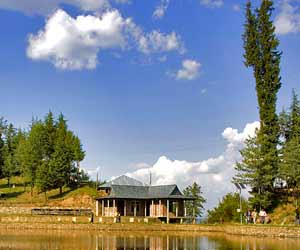 The hill station of Almora is located over a horse-saddle fashioned crest of a Himalayan mountain. Positioned at an elevation of 1,646 m (5,400 ft), Almora has an enjoyable but sometimes cold climate all the way through the year. Almora has an average annual maximum temperature of around 23°C and average minimum temperature of approximately 10°C. The annual average rainfall hovers more or less around the figure of 1,152 mm.
Summer months are from April to July, which sees a moderate climate with the mercury remaining mostly below 30°C. Almora, at this point of time, is really ideal for visiting all tourist attractions here. Monsoons rush in the months of August to October. Almora is usually linked with reasonable rainfall compared to rest of the mountains. However, these rains make Almora more striking and eye-catching with fresh and lush green foliage. December to February sees the winters with lots of ice-cold winds, sporadic snowing and mist laden mountains.
The winter months are usually freezing and the temperature may go below 0°C. The best time to visit Almora is during the months of March to November. Though the months of March to June also favor picnics and outings. One will be very comfortable in Cottons and light woolen clothing during summers but winter will demand heavy woolens apparels.