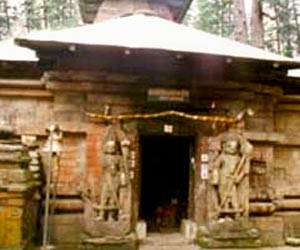 Almora is a district place located at centre south of Uttarakhand State in India. Situated at an altitude of 1, 638 meters above the sea level, Almora offers breathtaking views of the majestic snow capped Himalayas. Besides, Almora also has a host of interesting places that one can visit.
Attractions In Almora
Shiva Temple
This ancient temple of Shiva is surrounded by huge fur trees. This magnificent monument is dedicated to the destroyer of the universe according to the Hindu mythology. This Shiva Temple able has an antechamber in which houses the Temple of Nanda Devi. Nanda Devi was the patron goddess of the Chand Dynasty that rules this area in medieval era.
Almora Fort
The Almora fort is a valuable asset Chand Dynasty has given to the people. After the Indian Independence, this Fort was converted into the District Collectorís Office. The fort offers a 360 degree view of Almora and the surrounding countryside. Almora fort is situated at the highest point of Almora bazaar.
Lakhuudiyar
Lakhuudiyar is the most important of all prehistoric sites of Almora. It contains a host of prehistoric rock paintings of human beings, animals, lizards, group of dancers and so on. Lakhuudiyar is said to exist since the Bronze Age.
Phulseema and Pharkanauli
Phulseema and pharkanauli are other sets of beautiful rock paintings of Bronze Age. They are situated at a distance of 4 Km from Lakhuudiyar. Red lines over the rocks make these paintings peculiar and somehow form the dancing figures over the rocks.
Tamta Mohalla
Tamta Mohalla is a locality of old city of Almora that in earlier times belonged to the coppersmiths. It is noteworthy that copperware is one of the traditional crafts of Almora and some of the best coppersmiths still work from Tamta Mohalla.
Bright End Corner
Bright End Corner is a place in Almora, famous for sunrise and sunset points. It is a place where one can listen to his soul in serenity and tranquility of the surrounding environs.
Deer Park In Almora
An evening walk through the Deer Park, located 3 Km from Almora is certainly going to be a memorable experience.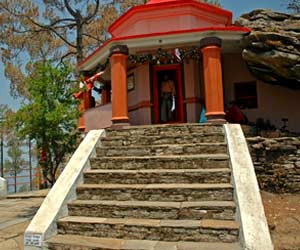 Kasar Devi
Temple of Kasar Devi, located about 6 Km from Almora is a clam and soothing place. Such is the serenity of this place that Swami Vivekananda chose this place to meditate.
Nanda Devi Temple
The ancient temple of Nada Devi is one of the prime attractions of Almora. Nada Devi is the patron goddess of the local people and the erstwhile Chand dynasty. Hundreds of years old, this temple carries deep faith of people from this area. The statues and images on the walls of the temple are intricately carved with great skill.
Govind Vallabh Pant Public Museum
Govind Vallabh Pant Public Museum is located near Almora bus stand. It is the only museum in Almora and surely deserves a visit. The museum has a rich collection of fascinating items relating to history, archeology and ones having cultural significance. One such item being ĎApení, folk style of painting found in this region that can be seen in this museum.