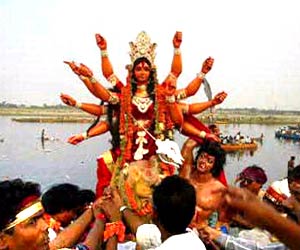 West Bengal is home to people belonging to a number of different religions. In fact, people of almost all religions practiced in India live in West Bengal. However, Hindus and Muslims form the major chunk of the state's population. Hindus make up about 72.5% of the total population in West Bengal, while Muslims comprise about 25% of the population. The other minority communities in the state include Christians, Buddhists, Sikhs and Jains, which together comprise less than 1 % of the entire population. About 2% of West Bengal population is made up of tribal people. All these people live here with immense harmony and peace. Id, Durga Pooja and Christmas are celebrated with same zeal and fervor. The variety in the religious beliefs and traditions of people in West Bengal make it an interesting culture-conglomerate.
Hinduism
Hinduism, the most widely practiced religion in West Bengal, covers numerous religious wings, varying from monotheists to polytheists, in various degrees. The major religious sects in Hindus are Vaishnav, Sahajiya, Shaktas and Saivas, each with its own line of thought and social practice.
Islam
Islam is the second most popular religion in West Bengal. It came to the state, with Sufi missionaries, in the 12th century. Muslim conquests also helped spread Islam throughout the region. In 1947, at the time of Independence, the Muslim-dominated Eastern Bengal went along with Pakistan and now stands as an independent state - 'Bangladesh'. As per 1991 census, Muslim population was dominant in border villages and cities in West Bengal.
Other Religions
Minorities and tribal people comprise less than 3% of the population in West Bengal. Amongst them, Christians, Sikhs, Jains and Buddhists combine together to form less than 1% of the entire population. There are about 38 dominant tribes in West Bengal, which together form 2% of its population. Santhals, Oraons, Mundas, Koras, Mehalis, Lodhas, Malpaharias, Bhutias, Lepchas, Mechs and Ravas are some of them.