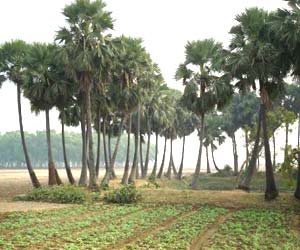 Location:
West Bengal
Altitude:
180 feet
Summer Temperature:
Max: 40
0
C
Winter Temperature:
Min: 10
0
C
Best Time to Visit:
December to February
Situated as the northernmost district in the Burdwan Division, Birbhum is an administrative unit in of West Bengal. It lies between 23
0
32' 30" and 24
0
35' 0" north latitude and 88
0
1' 40" and 87° 5' 25" east longitude. Sprawling over an area of 4,545 sq km, the district is triangular in shape and is bordered by Jharkhand at the northern and western side and Murshidabad on the eastern side. On the southern side, River Ajay forms its base. Talking about the weather in Birbhum, the district usually experiences hot summers and pleasant winters. To get detailed information on the climate and weather of Birbhum, read through the following lines.
Summers
The district of Birbhum experiences dry and hot summers with temperatures often rising above normal. During summers, the mercury rises well above 40
0
C (104
0
F). As for the direction of the wind, it is always blows from the south-east. The climatic conditions in the western and eastern side of the district are different. While the western side is dry and extreme, it is relatively milder on the eastern side. The summers in Birbhum usually start from middle of March and lasts till the middle of June.
Monsoon
The arrival of the month of June marks the onset of monsoon in Birbhum. The district boasts of a high average rainfall. However, it is observed that the western region of the Birbhum district receives higher rainfall as compared to the eastern region. The difference between the annual average rainfall in Rajnagar (1,405 millimeters) and Nanoor (1,212 millimeters) is an example of this. Monsoon in Birbhum lasts till the middle of the month of October.
Winters
Winters in Birbhum are pleasant and enjoyable, with mercury dropping to about 10
0
C (50
0
F). While the day time is pleasingly cool, with the fall of evenin temperature lowers further, making the nights chilly and cold. During winters, wind usually blows from the north-west direction. The winter starts from December and last till the month of February. Due to such favorable conditions, winters is deemed as the best time to visit this historic and significant district in West Bengal.