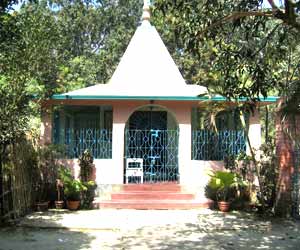 Nabadwip is a city of nine islands, situated in West Bengal. Sited at the bank of Bhagirathi, it houses the birth place of Sri Chaitanya, the great social reformer and saint of India. It is also the centre of Vaishnav culture in West Bengal and an ancient seat of Sanskrit studies. The city of Nabadwip is also surrounded by some popular excursions, which are also considered to be amongst the beautiful tourism spots in the state of West Bengal. Here is the list of some prominent tourist places near Navadwip.
Excursions from Nabadwip
Mayapur
Mayapur is one of the most popular tourist destinations of West Bengal, situated near Nabadwip. This place is famous for being the headquarters of the famous Hare Krishna or ISKCON movement. The city houses the famous ISKCON temple, with Radha Madhava deities. The idols of Radha Madhava in this temple are surrounded by eight gopis. The idols of Narasimhadeva and the Panca-tattva are also enshrined in the temple.
Krishnanagar
Krishnanagar is another popular excursion near Nabadwip. Renowned as the center for clay modeling and pottery in West Bengal, this city is also the birth place of noted Bengali poet, composer and playwright Shri Dwijendra Lal Roy. Krishna Nagar had also once been the center of activities of the Christian missionaries. Popular tourist spots in the city are Krishnanagar Palace and the Roman Catholic Church.
Bethuadahari
Bethuadahri is a popular wildlife sanctuary situated near Nabadwip. This sanctuary houses a wide variety of wild animals, like spotted deer, jackal, Bengal fox, porcupine, and common langur. It also houses birds like parakeets, Indian cuckoo, barbets and other smaller birds. Bethuadahri Sanctuary has a significant population of snakes and pythons as well.
Shantipur
Shantipur was a popular centre of Sanskrit learning and literature in past. The city is also famous for the Topkhana Mosque, built by Fauzder Gazi Mohammad Yaar Khan, during the reign of Mughal Ruler Aurangzeb. Another famous place in the city is the Shayam Chand Temple, built in conventional 'Aatchala' style. Jaleshwar Temple and Adwaita Prabhu Temple are other temples in Shantipur that you should visit.