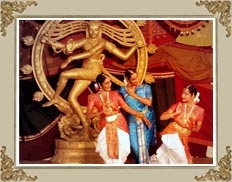 The rich and varied culture of Andhra Pradesh can be perceived from its melodious music, scintillating dances, delectable cuisine, ingenious arts &crafts, glorious religions and wonderful people. In the earlier times, the state was ruled by several dynasties and empires, which influenced its cultural heritage. Eventually, Andhra Pradesh culture became rich and creative with the touch of diverse civilizations.
In the world of creativity, Andhra Pradesh has procured a high position with its work of art. The state is undoubtedly a prized gem in the crown of the Indian glory. The ethnicity of the state is also visible from the different communities and religions followed by them. The relishing dishes of Andhra cuisine boast of the 'Nawabi' style of the royalty. Following links will throw light on the various aspects of Andhra culture.
Art and Craft
Andhra Pradesh is a multifarious state that has covered each and every aspect of existence, all-embracing from technology to arts and crafts. The arts and crafts of the state comprise of a remarkable range of handicrafts, paintings and handlooms.
Dances
Andhra Pradesh has always been known for its rich culture. This wonderful state has presented a wide range of performing arts, including dance, drama and music, to the world. Dance is the most interesting form of performing arts that has been encouraged from centuries in India.
Music
Andhra Pradesh has been known since ages for its rich musical heritage. The state is also known for being the homeland of Thyagaraja, Shyama Sastri and Muthuswami Dixitar - the three prodigies of the Carnatic Music Trinity. The ubiquitous Telugu language of Andhra makes the true essence and spirit of Carnatic music.
People
Andhra Pradesh has a concoction of various communities, religions, customs, lifestyles and cultures. In broad terms, the people of Andhra are nice and friendly, who live in perfect harmony, in spite of belonging to different castes and following different religions.
Religions
Andhraites are highly pious people, who follow their religion with the highest regard. In Andhra Pradesh, the major religions are Hinduism, Islam, Christianity and Buddhism. Around the state, you can find people following different religious practices, along with their own notions and customs.