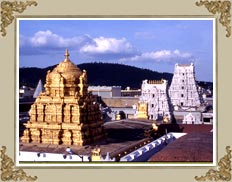 Tirupati is the name which requires no introduction. Known for embracing the world's richest temple, Tirupathi is a revered temple town, situated in the Chittoor district of Andhra Pradesh. The city earns a considerable fraction of tourism prospects of only not the state, but the whole of India. Tirupati Temple, being the highly revered pilgrimage site of the Hindus, gets major attention of devotees all over the world. It's a place where all wishes and requests of people come true.
The term 'Tirupati' is made of two words, where 'Tiru' means 'Sri' and 'Pati' means 'Husband'. Thus, 'Tirupati' suggests 'Maha Vishnu' or 'Lord of Maha Lakshmi'. Dotted with several temples and immersed in the divine aura in conjunction with scenic beauty, Tirupathi appears truly charismatic. Apart from Sri Venkateswara Temple, there are many famous shrines here, like those of Govindaraja, Rama, Mallikarjuna, etc.
In the earlier times, the town was ruled by the rulers of various dynasties of South India. Though Tirupati Temple is very old, huge contributions were made by many Kings for its development. The temple town represents the rich cultural legacy of the past. The Tirumala Hills with its lofty peaks, further add to the glistening charm of the town. Travel to Tirupathi and see the spiritual grandeur of the city yourself.