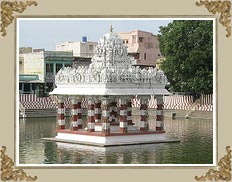 Tirupati, the abode of Lord Venkateswara, seems to be engaged perpetually in the charm of its numerous temples. Devotees come to visit the famous Tirupati Balaji Temple, the world's richest temple, from all parts of the world. Apart from this temple, there are many temples to see in the spiritual land of Tirumala Hills. A tour to Tirupati is never complete without visiting these ancient temples that make its sightseeing tours. Scroll down to get more information about the tourist attractions of Tirupathi.
Tirupati Temple
With the ceaseless blessings of the Almighty, Sri Venkateswara Temple continues to be the most visited shrine in the world. Not only most visited, it also claims the distinction of being the world's richest temple too. Tirupati Balaji Temple is perched on the Venkatachala or Ventaka Hill.
Sri Govindrajaswamy Temple
In Tirupati, Sri Govindrajaswamy Temple is the most visited temple, after Sri Venkateswara. The impressive spire of this temple captures the attention of everyone with its colossal size. Its presiding deities are Lord Vishnu and his incarnation, Lord Krishna. In 1130 AD, the shrine was sanctified by Saint Ramanujacharya.
Sri Kapileswaraswami Temple
Situated at foot of the Tirumala Hills, Sri Kapileswaraswami Temple is the only shrine dedicated to Lord Shiva in Tirupati. The temple boasts of splendid architecture. It has got a natural waterfall, which is called Kapila Teertham and sometimes, Alwar Teertham.
Sri Kodandaramaswami Temple
Situated in the heart of Tirupati, Sri Kodandaramaswami Temple is an ancient temple that dates back to the 10th century. Built by a Chola king, the shrine is dedicated to Lord Rama, Sita and Lakshmana. It is said that this temple is a memorial of the journey of Lord Rama to Tirupati-Balaji. On its opposite side, there is a shrine dedicated to Lord Anjaneyaswami (Hanuman).
Sri Kalyana Venkateswaraswami Temple
Located at a distance of 12 km from Tirupati, Sri Kalyana Venkateswaraswami temple is located at Srinivasa Mangapuram. According to the legends, Lord Venkateswara rested at this place after his wedding with Sri Padmavathi Devi, prior to heading for Tirumala.
Tiruchanur
About 5 km from Tirupati Temple, Tiruchanur houses the renowned temple of Sri Padmavathi Devi (Goddess Lakshmi), the consort of Sri Venkateswara. It is believed that a visit to Tirupati temple is rewarding only after paying homage to Sri Padmavati Devi Temple. Also known as Alamelumangapuram, Tiruchanur also comprises Sri Krishnaswamy Temple, Sri Sundara Rajaswamivari Temple and Sri Suryanarayana Swamivari Temple.