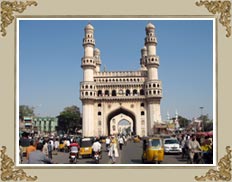 Perhaps Charminar is the pictogram of Hyderabad. Rising to the astounding height of 180 feet, the monument lies centrally in the old city. This marvelous monument is a true picture of elegance, a great tribute to the fighting spirit of human race. Charminar was built by Muhammad Quli Qutb Shah in 1591, to commemorate the obliteration of Plague from the city. The term 'Charminar' is derived from two terms, 'Char' suggesting 'four' and 'Minar' meaning 'minarets'. Char Minar of Andhra Pardesh is actually a mosque with four minarets.
It is renowned for its intricate carvings and beautiful structure. As per the legends, Quli Qutb Shah pleaded to the Lord to provide relief from the plague and took the vow to erect a 'mosque' in return. The construction of the mosque started and it came to be known as 'Charminar'. The four spires (minarets) of the mosque probably depict the first four khalifs of Islam. It has four storeys and the top-most storey has the mosque that includes 45 covered prayer spaces and some open space to accommodate more people for Friday prayers.
Char Minar is a notable square monument, having measurement of 20 meters on its each side. Each of the four corners boasts of an intricately carved spire, which elevates to the height of 48.7 m above the ground. Every minaret has four storeys that appear like a gracefully carved ring around the minaret. Charminar is a striking monument that acts as a major landmark in Hyderabad. Another famous and beautiful monument, Mecca Masjid is also visible from here. The blossoming market around the monument attracts people from far and wide.
It is especially known for its extensive range of items. In contrast to Taj Mahal, the elevated spires of Charminar are erected into the main edifice. One can reach the highest point of the monument by taking a flight of 149 steps and admire a spectacular view of the city. Constructed with granite and lime mortar, Charminar is a fine specimen of the Cazia style of architecture. The structure of the monument is the witness to the dexterity of the architects of that time. In the evenings, Charminar gets illuminated and looks exceptionally wonderful.