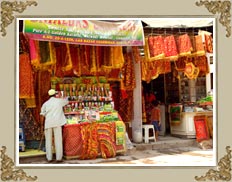 Laad Bazaar is a renowned market of Hyderabad, budding next to the magnificent Charminar. A tour to Andhra Pradesh would be incomplete lest you visit this glittering market of Hyderabad. This market is a prominent treasure-house of lacquer bangles, pearls, semi-precious stones, brocade, velvet, saris, gold embroidered fabrics, sherwanis, ethnic khara (starched) dupattas and perfumes. The market was named after 'Laad', which is actually a material to make bangles.
Owing to the eminence of its bangles, Laad Bazaar is also known as Choodi (Bangle) Bazaar. The market extends to a kilometer-long street, where hundreds of stores sell appealing articles. Especially for women, Laad Bazaar is a must-visit place, with its colorful collection of bangles, jewelry, saris, wedding clothes and other stuff. Colorful bangles and glistening pearls are the most popular items of this market. If you are keen on shopping, don't forget to browse the market and check out the rates thing.
Before purchasing, make sure to bargain with the shopkeepers because they generally quote higher price. Perhaps it could appear odd in a momentary look, but most of the stores make their customers sit on the floor that is carpeted from wall to wall. As the stores have limited space, they make such seating arrangement to ensure maximum room. Being located in a small lane that twigs from Charminar, Laad Bazaar can be visited on foot or by taking rickshaws available there.