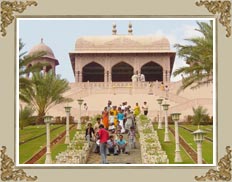 Ramoji Film City (RFC) is a wonderful place that you would like to visit again and again. This city of perpetual charms has every kind of color to suit your mood and temperament. Sprawled in an area of 1,666 acres, Ramoji Film City was established by the Ramoji Group in the year 1996. Guinness World Records has already certified this alluring city as the largest integrated film studio complex in the whole world.
The charisma of this place has not kept back any filmmaker, whether from Bollywood or Hollywood. Located at a distance of 25 km from Hyderabad, Ramoji Film City boasts of comprehensive pre-production, production, and post-production resources for the film makers. Having no less than 500 set locations; the film city can accommodate shootings for twenty international films and forty Indian films at a time.
Its remarkable infrastructure comprises of customized locations, mock-ups, set creation, properties and gears, shooting stages, cameras, equipment, audio post-production, digital post-production, SFX and film processing as well. Over a million tourists, from all parts of the world, come to visit this bewitching city of Ramoji every year. Whether it is a tourist or a honeymoon couple, children or senior-citizen, this versatile city is the ultimate destination for everyone.
Moreover, it has all the conveniences to keep its guests and visitors at ease. Ramoji Film City also has provision of accommodation for the tourists over and above the film production units, by means of 'TARA' (3-star) and 'SITARA' (5-star) hotels in the complex. No trip to Hyderabad could be complete without a visit to the Ramoji Film City, which is one amongst the major tourist attractions of the subcontinent as well as the continent.