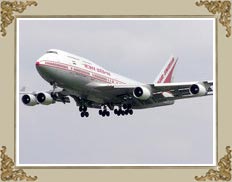 Hyderabad is a beautiful city of Andhra Pradesh that lures people from far and wide. Being the fifth-largest metropolitan city of India, Hyderabad boasts of numerous tourist attractions and business opportunities, which make it a perfect destination for every season. If you are planning to tour this IT hub and brooding over the question "how to reach Hyderabad", then here comes the answer. This magnificent city is well-connected with other parts of the country as well as the world. It has its own airport and railway stations. In fact, traveling to Hyderabad is easy since a brilliant network of highways and state roads connect this city with the major cities and towns of India.
By Air
Hyderabad is easy accessible by air through Begumpet Airport. This airport is also credited to be the only international airport in Andhra Pradesh. There are numerous airlines that run regular flights to and from Hyderabad. Begumpet Airport has two terminals; one for domestic and the other for international flights. These terminals are N.T. Rama Rao Domestic Terminal and Rajiv Gandhi International Terminal, repectively. Hyderabad is connected with all the major cities of the country and the world.
By Rail
When it comes to railways, Hyderabad stands in the forefront with its wide network of rail tracks. The main railway stations are Secunderabad, Hyderabad (Nampally) and Kacheguda. Many trains run to and from Hyderabad on regular basis. You can easily catch any of these trains for reaching Hyderabad from anywhere in India. These stations connect the city with most of the other cities and towns of India.
By Road
Hyderabad is well linked with all the neighboring states like Karnataka, Tamil Nadu, Maharashtra and Orissa. A well planned system of roadways has been maintained by the Andhra Pradesh State Road Transport Corporation (APSRTC). This efficient network connects Hyderabad with almost each and every city and town in as well as outside the state. The major national highways (NH) that can be followed for getting to the city are NH - 4, NH - 5, NH - 7, NH - 9, NH - 16 and NH - 18.