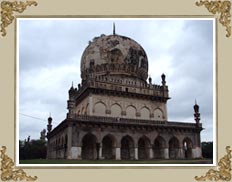 Hyderabad is a land of numerous attractions and each one has an appeal of its own. By now you must have explored Hyderabad, so get ready to extend your trip by adding excursions to your itinerary. No doubt, the 'City of Pearls' has almost everything to make your trip simply awesome. There are many tourist places near Hyderabad that can add more colors to your tour. Representing the glorious past, Golconda Fort is a heritage monument situated at a distance of 11 km from Hyderabad.
Dhola-Ri-Dhani is an ethnic Rajasthani resort, where you can actually enjoy the hospitable environment, while tickling your taste-buds with the scrumptious cuisine. If you happen to be a wildlife lover, Nehru Zoological Park would definitely be a place for you. Ramoji Film City is the best-deal for movie-buffs, who can experience both rustic as well as lavish settings illustrated in the movies at a time. The workmanship of the rural artisans can be viewed in the Shilparamam village, a place to grab handicrafts of Andhra Pradesh.
Golconda Fort
Golconda Fort is a standing testimony to the 500 years of the glorious past of Hyderabad. This imposing structure was constructed in the 16th century by various Qutub Shahi kings. Located at a distance of 11 km to the west of the city, the fort stands perched on a 120 meter high granite hill.
Nehru Zoological Park
Nehru Zoological Park is credited with being the largest zoo in India. It is located at a distance of 16 km from Hyderabad and comes under the Bahadupur region. The park was named after Jawaharlal Nehru, the first Prime Minister of India. For wildlife lovers, Nehru Zoological Park is the best place to explore the rich flora.
Ramoji Film City
Ramoji Film City (RFC) is a wonderful place that you would like to visit again and again. This city of perpetual charms has every kind of color to suit your mood and temperament. Sprawled in an area of 1,666 acres, Ramoji Film City was established by the Ramoji Group in the year 1996.
Mahavir Harina Vanasthali National Park
In Andhra Pradesh, Mahavir Harina Vanasthali National Park is a popular destination amongst the lovers of wildlife. Situated in Vanasthalipuram, at a distance of 15 kmsfrom Hyderabad, the park was established in 1975 and named after 'Lord Mahavira'.
Manjira Wildlife Sanctuary
Manjira Wildlife and Bird Sanctuary is a renowned haven that domiciles large number of local as well as migratory birds in Andhra Pradesh. Lying near Sangareddy in Medak district, this wildlife refuge is located alongside Manjira River.
Mir Alam Tank
Located adjacent to Nehru Zoological Park, Mir Alam Tank is a small lake that boasts of serene locales. This lake was named after Mir Alam, who was the Prime Minister of the erstwhile Hyderabad state from 1804 to 1808. An amazing fact about this tank is that it comprises 21 in-built small masonry dams.
Qutub Shahi Tomb
Located near Golconda Fort, Qutub Shahi Tomb represents a perfect fusion of Indian and Persian architectures. Thee tomb is made of granite and stands erect on square platforms. Initially, blue and green tiles were used to adorn these tombs, but very few of them are left today.
Shilparamam
Sprawled over an area of 50 acres, Shilparamam has been provided an authentic village image. It was established by Andhra Pradesh Government to promote the rural settings of the state. Here, one can see a perfect blend of the modern landscape architecture with the rustic aesthetics of brick structures, thatched roof, walls decorated with rangoli motifs, etc.
Dhola Ri Dhani
Built on the lines of Rajasthani village setting, Dhola Ri Dhani is a village resort having a typical rustic setting. It is located in Kompally, on the Medchal Road. Here, one can enjoy camel rides, puppet shows, folk dances and scrumptious cuisine of Rajasthan. Other attractions of the resort are a swimming pool, lake for boating, amphitheatre for plays and entertainment programmes.
Raymond Tomb
Raymond Tomb is an ancient structure that was built to memorialize the brave French General Michel Joachim Marie Raymond (1755 - 1798 AD), who joined the army of the ruling Nizam as an ordinary soldier. After 12 years of his service, he left this world, while working for the Nizams.