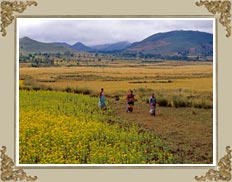 Hill Stations furnish the idea of tranquil and unruffled place, far away from the city chaos. Perhaps everyone dreams of such haven, where everything appears drenched in pastoral beauty. Untouched by the commotion of metropolitan lifestyle, the hill stations of India also offer peace and solitude to those who want to relax. Andhra Pradesh is known for variety of reasons and one out of them is its hill stations.
Enveloped with lush greenery, these hill stations are known for their salubrious atmosphere and pleasant weather. Moreover, they provide a wonderful respite to the people from the hot and sultry weather of the state. Green woods, incredible landscape and cascading gorges are the inseparable part of these hill resorts. Scroll down to know more about each and every important hill station of Andhra Pradesh.
Anantagiri Hills
When the tangled nerves need some break, a hill station is the only term that comes spontaneously to the mind. Anantagiri Hills is one such hill station, which soothes you to the core. Amidst the refreshing natural splendor, this hill station is certainly a paradise for all, mainly because of its serene atmosphere.
Araku Valley
Araku Valley is a soothing hill station in the expanse of Andhra Pradesh. Enveloped in pastoral beauty, this beautiful valley has an elevation of 1,300 meters. Imagine a deep valley, where lush greenery is accompanied by shimmering waters of gorges and then you see an isolated hut and wish, if you could go there.
Horsley Hills
Horsley Hills is a mesmerizing place where lofty peaks appear to be conversing with the blue skies. Perched at an elevation of 1,265 meters, this hill station would certainly tempt you with its beguiling beauty. Sited in Chittoor district, Horsley is the one of the three hill-stations in Andhra Pradesh.