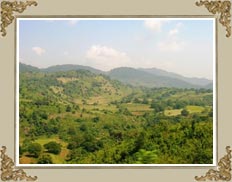 When the tangled nerves need some break, a hill station is the only term that comes spontaneously to the mind. Anantagiri Hills is one such hill station, which soothes you to the core. Amidst the refreshing natural splendor, this hill station is certainly a paradise for all, mainly because of its serene atmosphere. Located at Ananthagiri that comes under Visakhapatnam district, Anantagiri Hills is one amongst the only three hill stations of Andhra Pradesh.
It's a place where lush green hills appear bantering with the clouds and ravines pacifying the thirst of foliage. Known as a summer resort place, Anantagiri Hills serves as the best destination to beat the heat of scorching sun. The loveliest fact about this place is that its beauty is untouched by the commercial city life. Dotted with trees and gorges, the hill-station is a wonderful place to relax and unwind yourself.
Moreover, the drive from the city of Vizag to Anantagiri presents some cherishable scenes, ranging from mango groves to dense forests. The panoramic vista of this amazing hill station of India would make you feel out of this world. Coffee plantations make another picturesque sight from the vantage point. Infact, Ananthagiri is considered to be a salubrious hill station, since it has got pollution-free environment unlike the crowded cities.
Its sublime climate attracts ample of tourists throughout the year and in consideration of tourism, there are quite a few accommodations available at the hill. Regarding the flora, Anantagiri forests embrace vast variety of medicinal plants and herbs. Cascading gorges, beautiful landscape and lush greenery would replenish your energies and revive you to the soul. Once there, it is for sure that you would fall in love with the beauty of the Ananthagiri Hills.