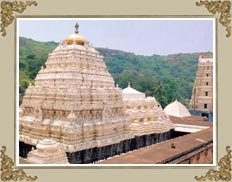 Visakhapatnam has many tourist places in and around its boundaries. The ceaseless charm of this port city appears to be spread in the all its contiguous parts. There are many exceptionally good places near Vishakhapatnam city of India. For tourists, these excursions would be a real delight. Drenched in the true natural splendor, the sites for excursions have a silvery magnetism that would pull you towards their charisma. The city also has two out of three hill stations of Andhra Pradesh in its close proximity. Many ancient Buddhist sites revive the age-old spiritual settlements. Scroll down to get more information about excursions from Visakhapatnam.
Bheemunipatnam Beach
Bheemunipatnam Beach is a peaceful and serene beach, situated along the coastline of Andhra Pradesh. Amidst the blue waters and tall coconut trees, this beach appears to be the perfect site for honeymooners. The sparkling sands that get soaked by the warm waves revive the childhood days.
Anantagiri Hills
When the tangled nerves need some break, a hill station is the only term that comes spontaneously to the mind. Anantagiri Hills is one such hill station, which soothes you to the core. Amidst the refreshing natural splendor, this hill station is certainly a paradise for all, mainly because of its serene atmosphere.
Araku Valley
Araku Valley is a soothing hill station in the expanse of Andhra Pradesh. Enveloped in pastoral beauty, this beautiful valley has an elevation of 1,300 meters. Imagine a deep valley, where lush greenery is accompanied by shimmering waters of gorges and then you see an isolated hut and wish, if you could go there.
Sankaram
Situated about 40 kms from Visakhapatnam, Sankaram boasts of two hills by the names of Bojjanakonda and Lingalametta. These hills have the Buddhist architectural remnants. Excavated in 1906, they possess the most amazing groups of Buddhist monuments that find their origin from 200 B.C. to 700 A.D. There are rock-cut caves, monolithic dagobas, massive pillars, rock-cut stupas etc, reviving the old-age charm.
Pavuralakonda
Pavuralakonda or 'Hill of the Pigeons' is to be found about 24 km from Visakhapatnam. This Buddhist site would give you an idea about the rain water harvesting concepts of the 3rd century BC. There are at least 14 - 16 reservoirs hewn into the bedrock. The later excavations revealed grounds of circular monasteries with cells, verandah, votive stupas, halls, etc. Earlier used as navigation canal for inland trade, Gosthani River flows alongside the hill.
Salihundam
About 116 km from Visakhapatnam, Salihundam is another Buddhist site, next to Vamsadhara River, in the Srikakulam district. In 1919 AD, this site was discovered by Gidugu Venkata Rama Murthy. During excavations, various structures like stupas, monasteries, temples and sculptures were revealed here. Dating back from 2nd century BC to 12th century AD, these sculptures depict the three phases of Buddhism - Theravada, Mahayana and Vajrayana.
Borra Guhalu (Caves)
In 1807, Borra Caves were discovered by William King George, a British geologist. About 95 km from Visakhapatnam, these caves are formations of millions of years old stalactite and stalagmite. The term 'Borra' literally means 'human brain' in Telugu. Since the configuration inside the caves looks like a human brain, it was named Borra Guhalu or Borra Caves. Gosthani River flows next to the caves, so much near that you can even hear its sound inside.
Simhachalam
Simhachalam is a small hamlet, sited about 16 km from Vizag. It is known for Sri Varaha Lakshminarasimha Temple, which boasts of excellent architecture. Dating back to the 10th-11th century, this religious shrine has many primeval inscriptions. Perched atop a hill, the shrine embraces the idol of Narsimha, the half man and half lion incarnation of Lord Vishnu. Its structure has similitude to the Chola and Chalukya styles of architecture.