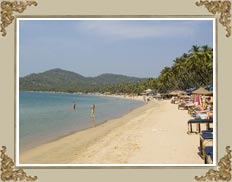 Away from the hustle and bustle of city life, Rishikonda Beach is the perfect destination for people on a holiday. The untouched sandy stretches and warm waves of the ocean make this beach definitely worth-visiting. Sited at a comfortable distance of 8 km from Visakhapatnam, Rishikonda is one amongst the best beaches of Andhra Pradesh. The term 'serene landscape' fits perfectly for the beach, where blue waters extend till the golden horizon.
The quietude and tranquility of this lovely beach cannot be bounded in words. Imagine the scene, where you are lolling over warm sands and water is touching your feet after every few seconds. On top of this, presence of green plants and foliage makes this whole picture look alive. There is no need to snap out of your dreams; since Rishikonda Beach is the literal place you were dreaming to spend your impending holiday in.
For swimming, water-skiing and wind-surfing, the seashore offers the finest place to indulge into leisure-activities. Sit under the sun or stroll around and feel the caressing touch of the golden rays at the beach. The Sun, thinning out its light all over the sea, brings an incredible vista before the sight. The warmth in the atmosphere would make you spend some quality time at the shore. It is for sure that a visit to Rishikonda Beach would be an invigorating experience for you.